Argentine video artist Mika Rottenberg is known for videos depicting women engaging in elaborate systems of production that often harvest their own body.
Mika's video installations envision the female body as a microcosm of larger societal issues such as labor and class inequities. In her short films, women cast for their notable physical features and talents perform perfunctory factory-line duties, manufacturing inane items worth less than the labor required to make them. Her homemade machinery and decor are functional but crudely constructed.
These contraptions, operating by pedal, conveyor belt, paddle, rubber band, or string, are reminiscent of Peter Fischli and David Weiss's kinetic props, though the human interaction in her works adds a carnivalesque element to Rottenberg's environments, the physical comedy implicit in her narratives recalling Eleanor Antin's filmed performances. The bright colors of Rottenberg's self-contained sets don't disguise the close quarters in which her characters work or mitigate the sense of claustrophobia induced by a dead-end job. A blue-collar work ethic is conjured through the women's uniforms, ranging from diner-waitress dresses to jogging suits. Her cast often use several body parts at once, reminding the viewer of the feminine capacity for multitasking while it suggests an ironic futility in her sweatshop-like situations.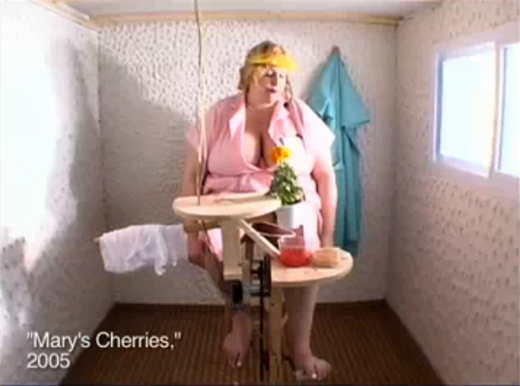 Mary's Cherries, video still, 2005
Three previous videos established Rottenberg's unique narrative approach, in which action is compressed into layers of illogical activity. In Tropical Breeze (2004), a woman in the back of a truck chews gum, wraps it in a tissue picked from a pile with her toes, and sends it on a clothesline to the profusely sweating driver, who dabs each tissue with perspiration to ferry it back for packaging and sale as a "moist tissue wipe." Rottenberg's installations often physically echo her videos: Tropical Breeze was screened inside a cratelike box mimicking a big rig's trailer. Mary's Cherries (2005) showcases a trio of obese ladies pedaling bikes who, through a magical process of clay kneading and fingernail clipping, transform acrylic fingernails into maraschino cherries. In Dough (2006), one woman smells flowers to provoke hay-fever tears while another mashes a foot-powered bellows into foul-scented air that wafts onto dough, which rises as the moisture and air hit it. Dripping beads of sweat, women's grunting, and booming machinery dominate the audio, while close-ups of the women's bodies and faces highlight their resignation to an abstruse cause.
Rottenberg's newest film, Cheese (2007), conflates farm-girl imagery with the fairy tale "Rapunzel" into a story loosely based on the Sutherland Sisters, renowned for their extremely long hair. Floating through a pastoral yet mazelike setting of raw wooden debris cobbled together into a benign shantytown, six longhaired women in flowing white nightgowns "milk" their locks and the goats they live with to generate cheese. Shots of animals crowded in pens and the sisters' bunk bed– cluttered room visually compare the women to their ruminant allies. As nurturing caretakers, these women represent maternal aspects of Mother Nature. Here Rottenberg investigates feminine magic, the ability to "grow things out of the body" as she says, as the ultimate, wondrous physical mystery.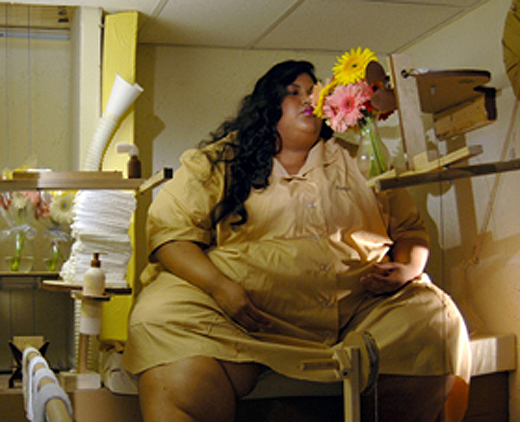 Dough, video still, 2005/06
With her video installation Dough (2005/06), Mika Rottenberg has produced an oppressive commentary on capitalism's alienating work conditions: the moonlight job now takes place in a specially designed sweatshop, where the housewives' bodies are turned into machines that actually produce sweat and tears. The artist, who was born in 1976, addresses themes such as economics in the post-industrial age or cultural identity; the female bodies she portrays exist far from social norms.
Mika Rottenberg is part of a vital New York scene that is currently attracting a good deal of international attention. Rottenburg's drawings for Dough were already on show in the pa.per.ing exhibition, which presented paper works by this young generation
of artists in the Lobby Gallery at Deutsche Bank New York. At the Frieze Art Fair, the Cartier Award's first winner will be showing Chasing Waterfalls: The Rise and Fall of the Amazing Seven Sutherland Sisters (Part 1) for the first time. At the center of this video work are the Sutherland Sisters who became human circus attractions due to their extremely long hair.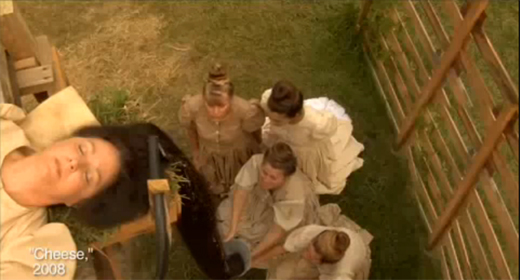 Cheese, video still, 2008, Whitney Biennial
Mika's video on coolhunting.com

Related posts: