On the Political Imaginary
January 28-April 11, 2010 at the Neuberger Museum of Art
Powerful Performance and Installation Art That Explores Issues of Exile, Displacement, and Instability
Tania Bruguera: On the Political Imaginary. This is the first survey of her interdisciplinary work focusing on the relationship among art, politics, and life. Featured are her powerful, innovative installation and performance works created for various international venues over the past twenty years. (The museum has recreated those venues in a striking installation in two of its largest galleries.) In this show, the artist explores such urgent issues as exile, displacement, and instability — and individual and collective responses to them, from submission, fear, and endurance, to the hope for survival and possibility of self-expression. Multiple daily performances are included throughout the run of the exhibition.

Tania Bruguera: On the Political Imaginery was organized by Helaine Posner, Chief Curator and Deputy Director for Curatorial Affairs of the Neuberger Museum of Art. "Tania Bruguera's journey has taken her from the Cuban-themed body performances of the 1990s, through a series of major performance/installations that look at the social and political implications of such charged international sites as Havana, Kassel, Moscow, and Bogotá, to a new form called Arte de Conducta or behavior art, in which she stages live events meant to activate and engage viewer response," Ms. Posner said. "Throughout her work, she uses her Cuban experience of cultural displacement and marginality as a prism through which to examine the mainstream and the individual's often-difficult relationship to power." Ms. Bruguera credits her teacher, the acclaimed Cuban artist Juan Francisco Elso Padilla (1956–1988), with providing inspiration for her work, stating 'I took from him the idea that art had to be completely linked with life – and not a fiction or a virtual reality, but as alive as possible.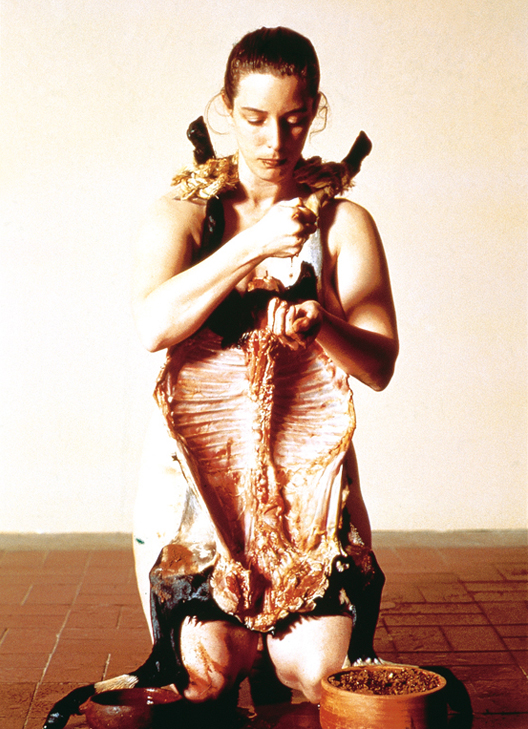 The Burden of Guilt, Bienal de La Habana, Cuba, 1997–1999
Coleción El Museo del Barrio, NY
The Burden of Guilt, first performed at the 1997 Havana Biennial, grew out of the colonial history of Cuba, in particular a story of a collective suicide by indigenous peoples under Spanish occupation who, legend has it, ate dirt until they died. In an homage that also represented an act of solidarity with contemporary Cuban dissidents, Bruguera appeared before an audience nude but for a skinned lamb carcass tied around her body and spent several hours ritualistically mixing dirt with salt water and ingesting it.
My art has to have a real function for myself, to heal my problems or to help other people to reflect and im- prove…' "For Bruguera, art serves as testimony, social commitment, and emotional experience, and is, foremost, ethical at its core," Ms. Posner observed. Tania Bruguera is an assistant professor at the University of Chicago and was founder and director of Cátedra Arte de Conducta from 2003-2009, the first performance studies program in Latin America, located in Havana. Her work has been presented internationally at Documenta 11, Kassel, Germany; three Venice Biennales, and the Tate Modern, London; and included in exhibitions at The New Museum of Contemporary Art, New York; The Museum of Contemporary Art, Chicago, and the Kunsthalle, Vienna.
Related posts: