Chris Burden
The Heart: Open or Closed
February 13 – March 27, 2010
Gagosian Gallery
Burden continues his interest in built structures and the role they play in reflecting cultures. In three individual but interrelated works, he turns his attention to the beauty and metaphorical possibilities of the architectural folly. At one end of the gallery Burden has recreated Nomadic Folly (2001). First presented at the Istanbul Biennial in 2001, this installation is his fantasy of a cultivated nomad's tent. The structure is comprised of a large wooden deck made of Turkish cypress and four huge umbrellas.

Visitors can relax and linger in this tent-like structure, replete with opulent handmade carpets, braided ropes, hanging glass and metal lamps, and rich, sensuous wedding fabrics embroidered with sparkling threads and traditional patterns. Soothing, seductive Turkish-Armenian music spills from the tent's interior. At the other end of the gallery is Dreamer's Folly (2010), a series of three highly ornamental cast-iron gazebos reminiscent of those common to traditional English gardens. The three gazebos have been reconfigured to form one structure. Lacy "Tree of Life" fabrics are draped around the exterior to complete a beautiful sanctuary in which to dream.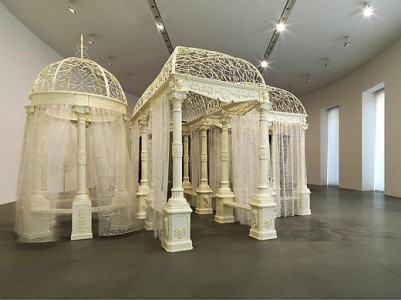 Like all of Burden's exhibitions, The Heart: Open or Closed resonates with ambiguity on many levels. This disarmingly beautiful installation may be his most tender and humanistic to date, pointing to the beauty in the heart of two different cultures and the hate that can divide them.

Related posts: