Don't Ask, Don't Tell: Portraits of gay men and lesbians in the military
Jeff Sheng's series of portraits of gay men and lesbians serving in the military, all of them in uniform and with their faces obscured in some way — by a hand, a door frame or by darkness. Mr. Sheng has photographed 40 servicemen and servicewomen so far and plans to shoot 20 more. His "Don't Ask, Don't Tell" show, featuring around 30 photos, will open at the Kaycee Olsen Gallery in Culver City in September. Mr. Sheng is at work on a second volume of the book.
He described his subjects, identified only by first names that are pseudonyms, as people who "didn't want to risk their careers, but who wanted to take some kind of stand." Earnest and passionate about his work, Mr. Sheng said he struggles to avoid being heavy-handed as an artist. "I merge a fight for social equality with photography, but I'm always trying to figure out how to do it intelligently," he said.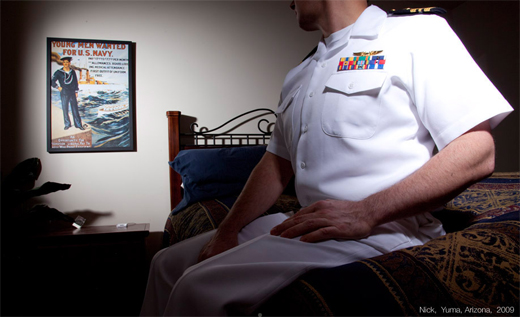 The policy known as "don't ask, don't tell" — the DADT he refers to — has been in place since 1993. Last month Adm. Michael Mullen, the chairman of the Joint Chiefs of Staff, called for an end to it, saying, "I cannot escape being troubled by the fact that we have in place a policy which forces young men and women to lie about who they are in order to defend their fellow citizens."
Read full article at The New York Times
Purchase Book
www.jeffsheng.com

Related posts: