Tate Modern: www.tate.org.uk
28 May – 3 October 2010
Since its invention, the camera has been used to make images surreptitiously and satisfy the desire to see what is hidden. Exposed: Voyeurism, Surveillance and the Camera examines photography's role in voyeuristic looking from the middle of the nineteenth century to the present day. It includes pictures taken by professional photographers and artists, but also images made without our knowledge on a daily basis through the proliferation of CCTV.
1. The Unseen Photographer
The first section of the exhibition considers ways in which photography can reveal the world unawares and show people caught with their guard down. This idea begins with the technologies that have allowed images to be made surreptitiously, from nineteenth-century cameras hidden in walking sticks, shoes or inside suit-jackets, to twentieth-century devices such as the lateral view-finder which allows the photographer to apparently face one direction while taking a picture in another.
Walker Evans
Walker Evans's Subway Passengers were made on New York City underground trains in the 1930s with small hidden cameras, allowing Evans to record the natural, un-posed faces of the city's inhabitants.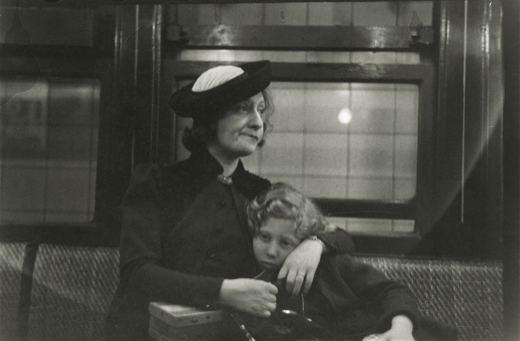 Subway Passengers
1938. Gelatin silver print
Philip-Lorca diCorcia
Heads, by contrast, were taken on the streets of New York in 2000, also without their subjects' knowledge or permission, but this time through an elaborate series of hidden cameras and automatic flashes that were triggered as people walked past.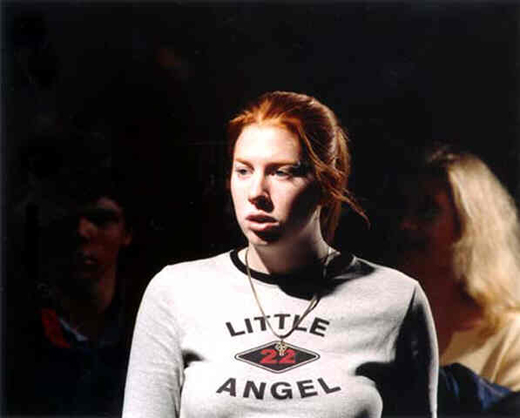 Head #8
2000, 122 x 152.5 cm
2. Celebrity and the Public Gaze
The notion of celebrity as we know it today is inseparable from the invention of photography. By the 1860s, photographic studio portraits allowed notable figures to become instantly recognisable to the public. However, this period of controlled self-publicity was short-lived. Smaller, more portable cameras allowed for covert picture-taking during private moments, and faster shutter speeds opened up opportunities for capturing subjects off-guard. Whilst some famous figures have manipulated the medium to their advantage, the infringement of privacy represented by such photographs remains controversial.
Weegee (Arthur Fellig)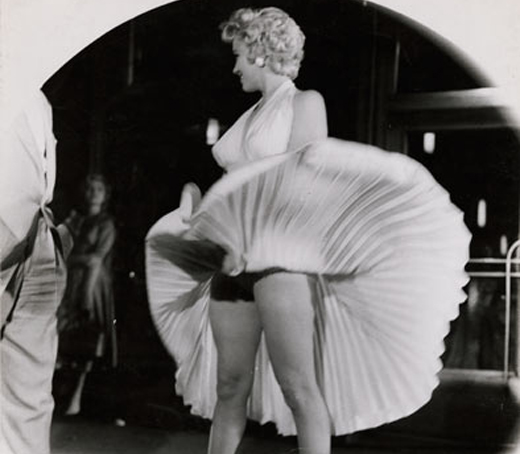 Marilyn Monroe
1950s.
Alison Jackson
Alison Jackson has exploited the comic potential of this genre through her staged photographs of celebrity lookalikes. Jackson takes the candid picture to an extreme, picturing her 'celebrities' in their most intimate moments.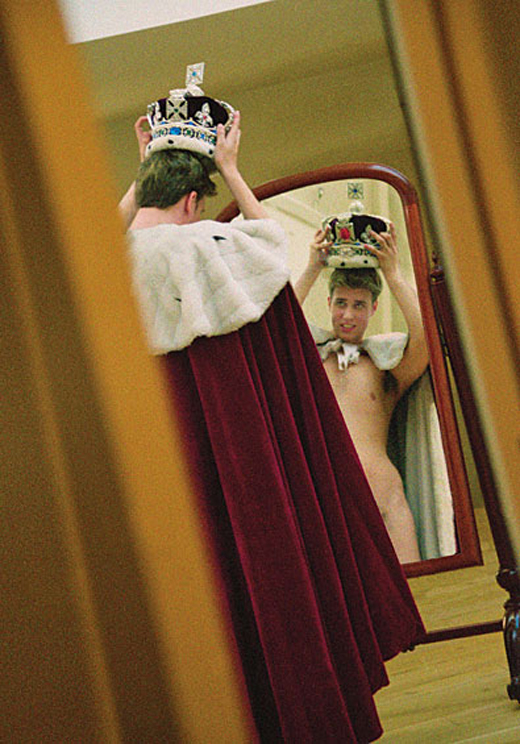 Prince William
3. Voyeurism and Desire
Sexual or erotic images have been made throughout the history of photography. This section includes photographs that gaze openly at willing subjects as well as those depicting illicit and intimate acts made without the knowledge or permission of their subjects. Many of these images seem to position the viewer in the role of a 'peeping tom'. At the same time, they pose difficult questions about who was looking and why, when the picture was made, and whether we should collude with, or reject, this point of view.
Auguste Belloc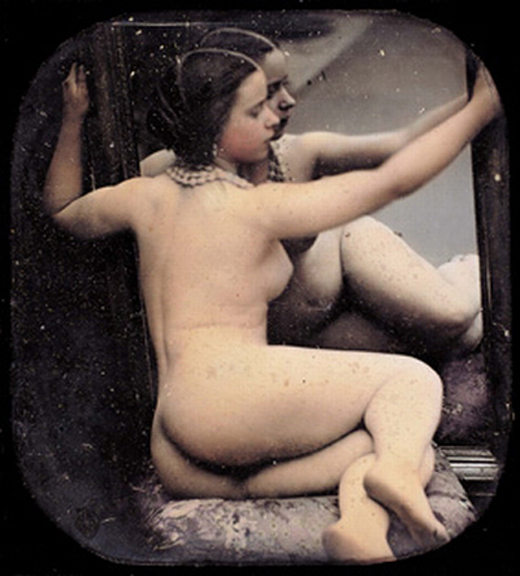 The French pioneers of photography often supplemented their income by producing pornographic pictures printed on small stereo cards, which appeared as three-dimensional when viewed correctly. Respected artist and photographer Auguste Belloc used the false name 'Billon' when he created a series of stereoscopic prints showing women with their skirts raised and legs apart. His contemporary Felix-Jacques Moulin was sentenced to a month in prison after the discovery of his obscene photography.
Kohei Yoshiyuki
The photographs series  titled The Park were visible only by flashlight, as each visitor shone a torch over the pictures. As a young commercial photographer, Yoshiyuki uncovered a nocturnal phenomenon of Japanese park life. The men were trying to get close enough to touch the bodies on the ground without being noticed. Yoshiyuki participated in the voyeuristic 'sport' for several months before he started to document it using his 35mm camera and an infrared flash bulb. "To photograph the voyeurs, I needed to be considered one of them", he has said. "I behaved like I had the same interest as the voyeurs, but I was equipped with a small camera. My intention was to capture what happened in the parks, so I was not a real 'voyeur' like them. But I think, in a way, the act of taking photographs itself is voyeuristic somehow. So I may be a voyeur, because I am a photographer."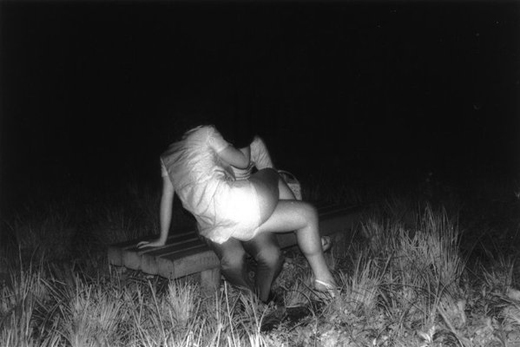 The Park, Untitled
1973 . Gelatin Silver Print, 20″ × 24″
4. Surveillance
Derived from the French word 'surveiller', meaning 'to keep watch' or 'to watch over', the surveillance camera has been used to police borders, to assist war-time reconnaissance, to gain advantage over political enemies or simply to gather information. Techniques of surveillance are closely linked to developments in photographic technology – from the earliest aerial photographs to satellite pictures. In the twenty-first century, cameras on street corners, in shops and public buildings silently record our every move, while web-based tools such as Google Earth adapt satellite technology to ensure that there is no escape from the camera's all-seeing eye.
Vito Acconci
Every day for one month in 1969 Vito Acconci followed a randomly selected stranger on the streets of New York, recording his experiences with photographs and a written account.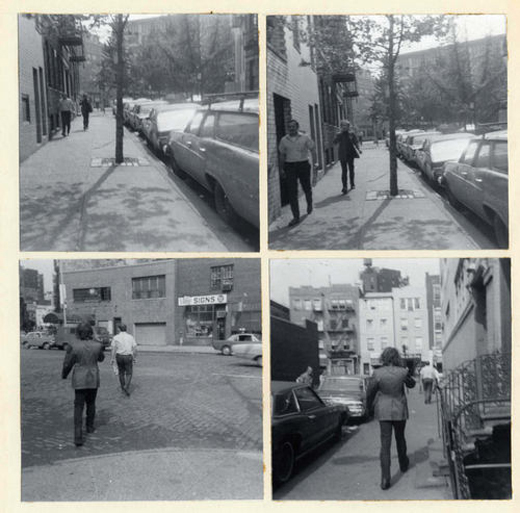 Following Piece
1969. Gelatin silver print, 8 x 8 cm (3 1/8 x 3 1/8 in.) each
Sophie Calle
Sophie Calle has made a number of works that explore the artist's voyeuristic nature, whether following strangers or employing others to follow her. In 1981 she took a job as a chambermaid in a Venetian hotel with the intention of gathering information about its occupants.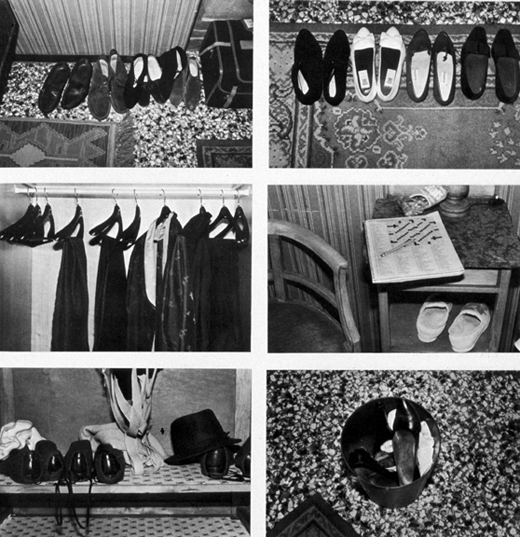 The Hotel
1981
Merry Alpern
Photographer Merry Alpern hid a video camera inside her handbag so she could take it into the harshly lit fitting rooms of a number of fashion boutiques, and found that it revealed a disconcertingly unfamiliar image of herself: "I had always seen myself quite differently when I looked in the mirror. Suddenly I no longer knew what I really looked like".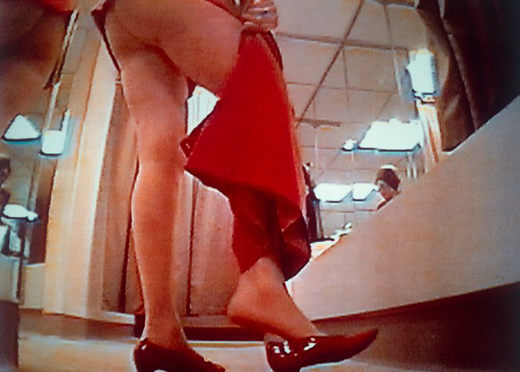 Shopping #16
1999. Photograph | Cibachrome print 20 x 24″
For the series "Dirty Windows" Alpern hid out in a building across an air shaft, capturing blow jobs, strip teases, coke-snorting, and a host of other activities with a telephoto lens.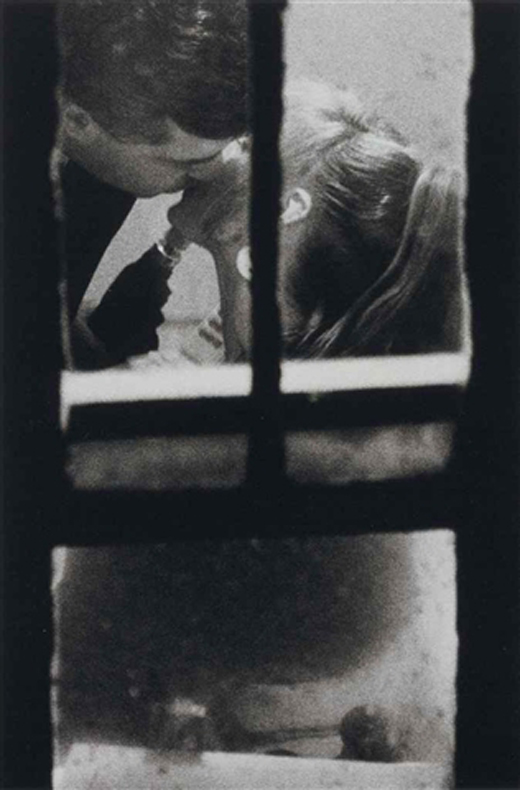 Untitled
1994. Gelatin silver prints, 18.2 x 12.2 in.