Gravity is a Force to be Reckoned With
Dec 12, 2009–Oct 31, 2010
MASS MoCA
Iñigo Manglano-Ovalle's project Gravity Is a Force to be Reckoned With (download gallery guide), is based upon Mies van der Rohe's uncompleted project, the 50×50 House (1951), a square structure open to view on all four sides through glass walls. In Manglano-Ovalle's work, the house will be constructed at approximately half scale and inverted, the ceiling of the original becoming the sculpture's floor, the floor becoming the ceiling, and all interior elements such as Mies-designed furniture and partition walls installed upside down.
This singular mysterious tableau provides a touchstone linking the glass house to what is widely regarded as the first science fiction novel; Yevgeny Zamyatin's We (1921). Set in a futuristic world where individual freedom does not exist and all inhabitants live and work in transparent buildings, the novel tells the story of a state-employed engineer who falls in love with a terrorist and ultimately finds himself in a political and emotional state of desperation culminating in his futile attempt to destroy power and banging his head on glass walls.

By conflating these histories Manglano-Ovalle acts as an alchemist, transforming references from literature, film and architecture into a new artistic hybrid. In a sense, Gravity Is a Force to Be Reckoned With manifests itself as much as an event, and a place of artistic action, as it does a traditional exhibition, turning upside down, literally, figuratively, and elegantly inverting separate utopian and dystopian gestures in order to precariously suspend itself in balance between the two.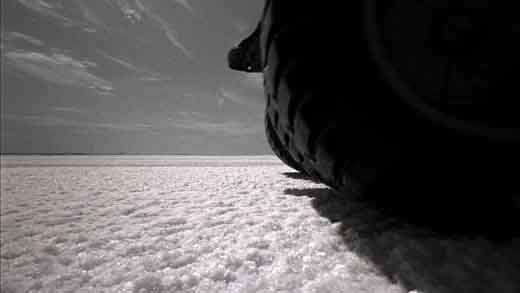 In conjunction with Gravity is a Force to be Reckoned With neighboring Williams College Museum of Art presents Juggernaut, a new video work by Manglano-Ovalle. Interested in connecting man's overpowering industrial presence with natural surroundings, Manglano-Ovalle's projects explore the global implications of social, political, environmental, and scientific systems. His projects are often interdisciplinary and Manglano-Ovalle frequently works with experts in fields such as engineering, architecture, genomics, and climatology to produce his conceptually engaging objects.
Juggernaut, was filmed in El Vizcaino Biosphere Reserve in Baja Sur, Mexico using super 16mm film, which was then transferred to HD video. El Vizcaino Biosphere Reserve is the largest protected area in Mexico, and is best known as the site of the mating ground for the endangered grey whale. However, instead of filming the endangered whales, Manglano-Ovalle chose to track the seemingly enormous salt mining vehicles and the expansive horizon of the landscape. A "juggernaut" is defined as any large, overpowering, destructive force or object, which Manglano-Ovalle presents to the viewers as these salt mining vehicles as they consume the pristine environment. The soundtrack for the video is a layering of static, voices, and electronic noises that ebb and flow throughout the video, building into dramatic climaxes. Similarly, the sense of space for the viewer constantly shifts between a vast, open landscape and a closed, cramped foreground, keeping the viewer off-balance and reinforcing the spatial contrast.

Related posts: