In this year's Biennial more than half the artists represented are women, a record for the Whitney's exhibition. Has the Whitney achieved gender equality?  What are female artists interested in?

Here are 10 female artists from this year's biennial:
1. Stephanie Sinclair:
Born 1973 in Miami, Florida
Lives and works in New York, New York, and Beirut, Lebanon
In this series of photographs, journalist Stephanie Sinclair documents Afghani women being treated for extensive self-inflicted burns. These women, who were being cared for in a rudimentary public hospital in the town of Herat in western Afganistan, set themselves on fire in acts of utter desperation. Some of the women shared their personal histories of prolonged abuse at the hands of their husbands or families with Sinclair.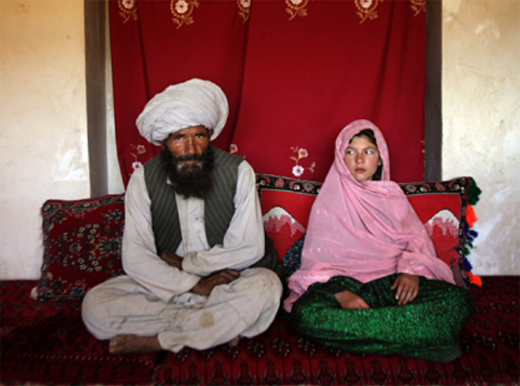 2. Nina Berman:
Born 1960 in New York, New York
Lives and works in New York, New York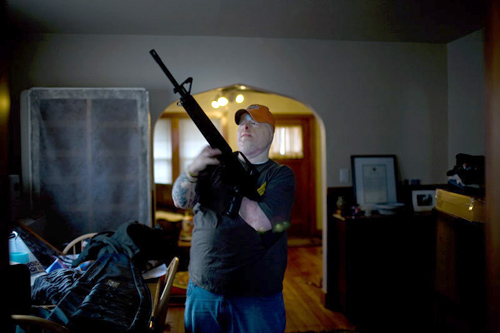 Nina Berman's photographs document the rarely explored effects and harsh realities of contemporary warfare. She engages the viewer with intimate images of the consequences of war that are often given short shrift in the popular media.
The 2006 photographs on view here document the marriage of former Marine sergeant Ty Ziegel, then twenty-four, to his high school sweetheart, Renee Kline, twenty-one. After being severely disfigured in a suicide bomber's attack while stationed in Iraq.
3. Kate Gilmore:
Born 1975 in Washington, DC
Lives and works in New York, New York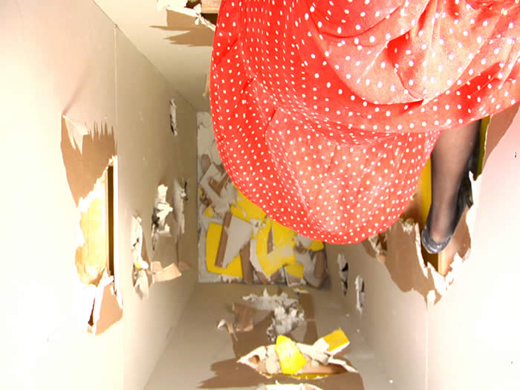 Kate Gilmore's work explores themes of displacement, struggle, and female identity. She is the sole protagonist in her performative videos, in which she attempts to conquer self-constructed obstacles.
For this work, Gilmore's obstacle is a tall column made of sheetrock which she tries to climb by kicking and punching holes into its walls. As in most of her work, Gilmore's attire is at odds with the brute physical labor she performs. She works through the limitations imposed by her feminine clothing—high-heels and a polka-dot dress—with sheer muscle power and desperate determination. Shot in one take, the outcome of her endeavor is unknown before the performance begins. Gilmore's tragicomic displays posit physical situations as metaphors for conflicts and social obstacles women face today.
4. Hannah Greely:
Born 1979 in Dickson, Tennessee
Lives and works in Los Angeles, California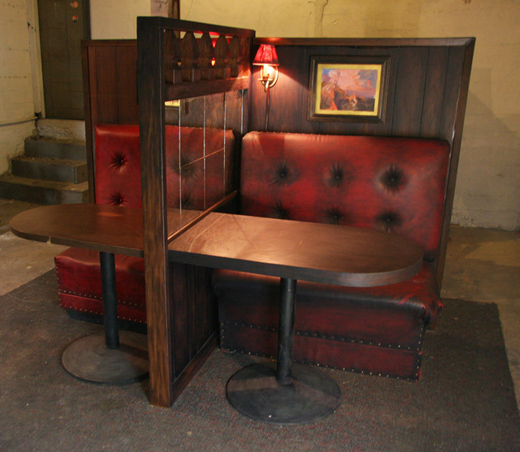 Like many of Hannah Greely's sculptures, Dual replicates everyday objects—here two booths in a dark bar—but with subtle incongruities of material or form. Visible indications of these discrepancies, like the length of the seat cushions and the height of the tables as well as the obviously handmade pay phone, take on a surreal presence within the otherwise mundane setting of a dive bar. Even the tears in the vinyl seats or spots of discoloration on the wood-paneled walls are carefully crafted by the artist.
The partition that divides the work compounds its uncanny effect. As the sculpture invites an intricate play of similarity and difference, the familiar becomes strange, and a sense of psychological unease emerges in the gap between what is a real-world object and what is a sculptural facsimile.
5. Sharon Hayes:
Born 1970 in Baltimore, Maryland
Lives and works in New York, New York
Through her performances, films, and installations, Sharon Hayes examines the intersection of history, politics, and speech, with a particular focus on the language of twentieth-century protest groups. Parole, the title of this installation, refers to the term used by Swiss linguist Ferdinand de Saussure to distinguish individual acts of speech (parole) from a larger system of language (langue). In this installation, several distinct scenes present examples of public speech in different contexts. In each of the settings, which include Hayes's recent performances as well as fictive scenes without an audience, the same figure appears, recording sound but never speaking. Hayes draws on historical texts—such as early lesbian activist Anna Rüling's 1904 speech.
What Interest Does the Women's Movement Have in the Homosexual Question—that "re-speak" to new audiences. These historical speeches, and Hayes's work in general, explore the construction of gender and sexuality and the articulations of political protest, revealing unexpected resonances across time periods. Parole encourages the viewer to think about how past forms of protest can inform the present and how the effects of public speech are altered in the process of documentation.
6. Lorraine O'Grady:
Born 1934 in Boston, Massachusetts
Lives and works in New York, New York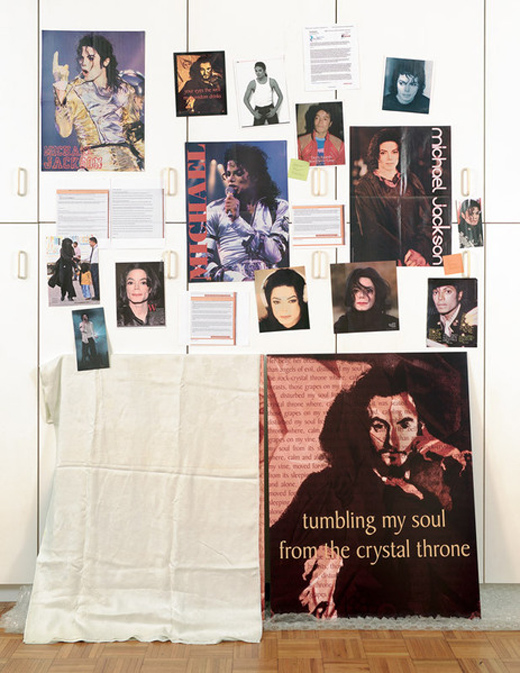 Lorraine O'Grady's diptych series pairs images of nineteenth-century French poet Charles Baudelaire and twentieth-century American musician Michael Jackson—artists she considers to be "the first and the last of the modernists." O'Grady maintains that Baudelaire and Jackson, artists separated by nearly 150 years, occupied pivotal positions in their genres and shared surprisingly similar traits, including dramatic flair, aspirations to greatness, unrelenting perfectionism, drug addiction, and ambiguous sexuality.
Choosing from tens of thousands of internet images of Jackson to pair with the few available images of Baudelaire, O'Grady represents the two men at roughly the same ages, tracing their trajectories: Baudelaire's descent from an aristocratic family into poverty and Jackson's rise to wealth and fame. Made in part to reconsider the life and career of Michael Jackson, The First and the Last of the Modernists raises questions about the roles of art and popular culture as well as how modern figures are presented, flattened, and distributed through the news media.
7. Aki Sasamoto:
Born 1980 in Yokohama, Japan
Lives and works in Brooklyn, New York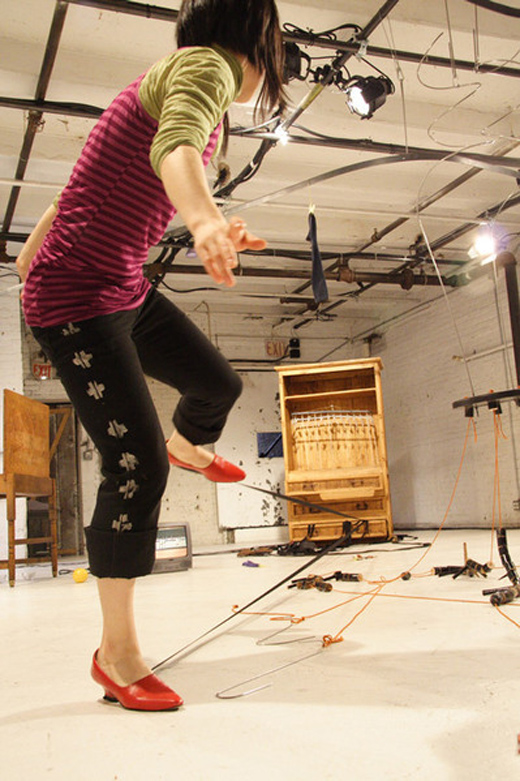 Aki Sasamoto's installations and performances explore the nuances and peculiarities of everyday life. She uses sculpture, movement, video, and sound to transform mundane actions into theatrical events. Strange Attractors consists of a careful arrangement of sculpturally altered, found objects that take on new roles and provide guidance for Sasamoto's improvisational performances that take place within the installation. The performances demonstrate Sasamoto's attempt to understand the mathematic structure of the Lorenz Attractor, a fractal structure that works in a dynamic system. For her performances, Sasamoto also includes additional objects related to her recent obsessions with, among other things, doughnuts, fortune-tellers, and hemorrhoids.
8. Ania Soliman:
Born 1970 in Warsaw, Poland
Lives and works in Basel, Switzerland and New York, New York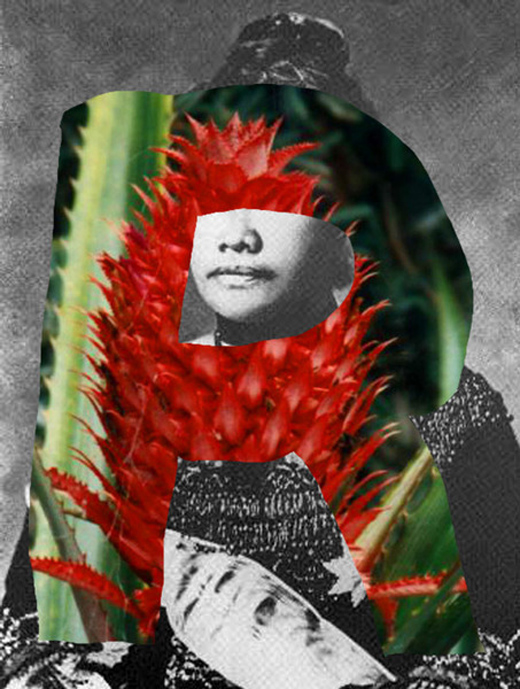 NATURAL OBJECT RANT: The Pineapple comprises twenty-six montages, each corresponding to a letter of the alphabet, and twenty-six text panels that explore the pineapple's history as an exotic commodity tied up with the politics of colonialism. Reminiscent of Dadaist photomontages from the 1930s such as those by German artist Hannah Höch, each montage is a hybrid of two digital images, sourced from the internet.
The accompanying panels of text are written by the artist and informed by her research and impressions on the subject of the pineapple and its historical significance. Soliman provides a political and cultural context for this tropical fruit—a prized object from distant lands that exemplifies luxury, conquest, and consumption.
9. Kerry Tribe :
Born 1973 in Boston, Massachusetts
Lives and works in Los Angeles, California, and Berlin, Germany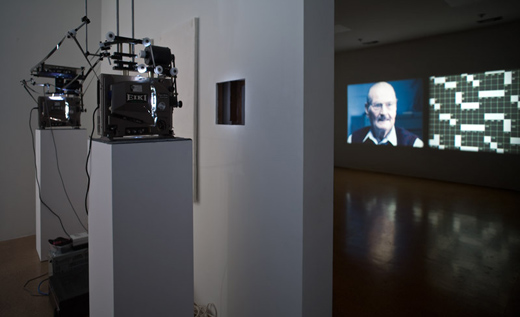 Kerry Tribe's film and video installations investigate the relationships among memory, subjectivity, and representation. The work on view here utilizes a documentary format to recount the case study of "H.M.," a patient who underwent experimental surgery in the 1950s as a cure for epilepsy. After the treatment, which involved the removal of part of his brain, H.M. suffered from severe amnesia, with his short-term memory restricted to events of the prior twenty seconds.
Tribe's film weaves touching reenactments of interviews with H.M. with scientific animation, text, and archival images of iconic historical events H.M. cannot remember because they took place after his surgery. To evoke H.M.'s condition, this two-channel film installation uses a single strand of film threaded through two adjacent projectors with an interval of twenty seconds between them. The observation of the tandem projections brings awareness to the ephemeral nature of that brief interval, and by extension, the fragile nature of human perception.
10. Marianne Vitale:
Born 1973 in New York, New York
Lives and Works in New York, New York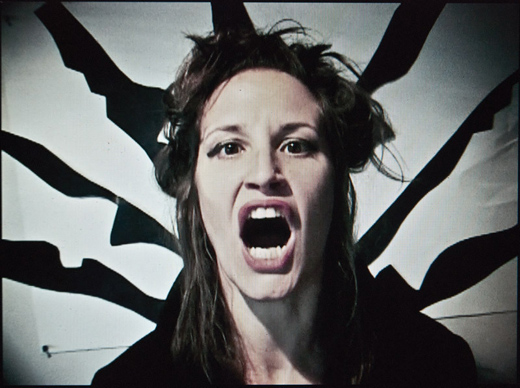 "Welcome to the future of Neutralism," Marianne Vitale declares at the beginning of her video Patron. Staring directly into the camera, Vitale orders her audience to stand up, open their mouths wide, recite tongue-twisting rhymes, and "spit at the ceiling." While insisting on compliance with her videotaped instructions, Vitale's performance parodies authoritarian posturing, especially when her abusive demands border on the surreal ("imagine your feet soaking in gopher urine") and her monologue evolves into a poetic flight of mean-spirited aphorisms.
Vitale's tone recalls the rhetoric of early twentieth-century avant-garde movements such as Futurism, whose members wrote breathless manifestos calling for radical change. While Vitale's philosophy of "Neutralism," which she never defines, may be grounded in a sense of irony, her direct address nonetheless retains something of the historical avant-garde's conviction of art's ability to jar viewers into action.