12 June to 3 October 2010
Schaulager
www.schaulager.org
www.drawingrestraint.net
This year Schaulager is presenting Drawing Restraint by Matthew Barney. Drawing Restraint is a series of performances, numbering sixteen thus far, in which Matthew Barney leaves traces in an environment of self-induced physical and psychological restraints. Works emerging from these performances, such as sculptures, vitrines, drawings and videos, are juxtaposed in the Schaulager exhibition with works of art from the Northern Renaissance.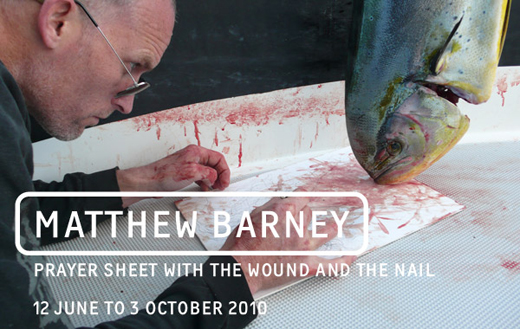 The basic idea of Drawing Restraint is that form can only take shape when it struggles against resistance. Drawing Restraint was initially conceived such that its apparatuses would frustrate the ease of drawing. The first performances consisted of environments with ramps, sloping surfaces, elastic belts and obstacles that expressly served to restrict the artist's skill.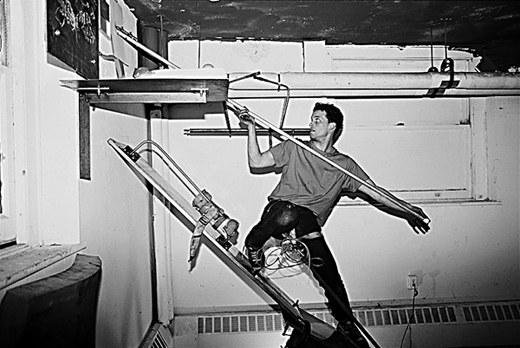 As the series developed, the setting of the performances became increasingly sophisticated and the narrative more allegorical.
Objects deriving from the performances capture certain aspects of the action as "secondary forms" – drawings, sculptures, vitrines and photographs. These objects are never random but always carefully selected and arranged. Each action is also documented on video.
About Schaulager: Schaulager was created in Basel in 1933 by the Emanuel Hoffmann Foundation. It is an institution dedicated to contemporary art – its conservation, research and dissemination.
It is a new kind of space for art. It is neither museum nor a traditional warehouse. Schaulager is first and foremost a response to the old and new needs for the storage of works of the visual arts.