Originally conceived by the artist in 1991 as a site-specific installation for the Spoleto Festival held in Charleston, South Carolina, indigo blue was inspired by the region's history of indigo production. Both a plant and a dye, indigo is inextricably bound to the South plantation economy.
Hamilton's interest in the history of American labor was underlying motivation behind the creation of this work; she has cited Howard Zinn's "A People's History of the United States" (1980)- an alternative history of the nation -as a particularly important source of inspiration.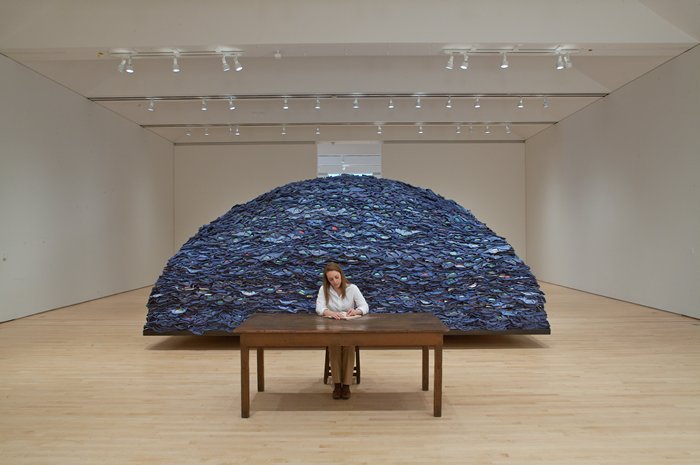 Indigo blue with Hamilton's attempt to unearth this history. The work is comprised of approximately 18,000 pieces of used, blue, cotton work clothes. The uniforms of anonymous blue-collar workers, whose names for the most part are lost from written histories.
In front of the platform stands a wood table and chair where a hired participant is seated, and erases passages of the book published by the Naval War College, title "International Law Situations".
The performative actions of the body are essential aspect of Hamilton's work, investing the piece with an action of authorship. This action in particular, speaks to how traces of the human body have the potential to participate in the rewriting of the different story.


Related posts: