Peruvian artist, Eduardo Villanes explores the loss of the incredible biodiversity of his native land, the ancestral home of more than 600 varieties of potatoes and endless amount of other plant and animal species.
Villanes's works dealing with GMOs appear quite benign: seductive, highly optical creations, rather than dry, conceptual political pieces. For the past few years, the artist has been translating DNA sequences of variety of plant species into four-color patterns (which each color standing for one of the four DNA nucleobases: adenine [A], cytosine [C], guanine [G] and thymine [T]), which he later materializes as what he calls "microtextiles," or beadworks, tiny pieces of fabric woven with thin nylon string and glass beads. The fabrics are then installed in slide mounts and either displayed on light tables or – enlarged multiple times – projected onto the walls of a gallery. The Extinction of Corn took on the latter form, presenting itself as an alluring spectacle of luminous, vibrant colors totally consuming the exhibition space.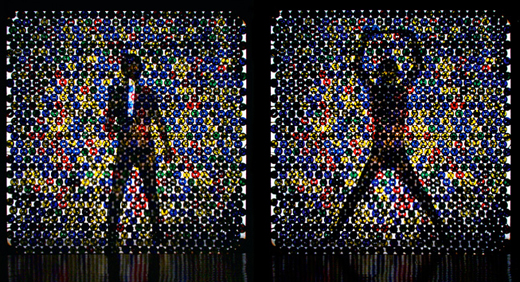 The artist statement published in the exhibition catalogue unequivocally condemned genetic modification of living organisms and corporations standing behind mass implementation of GMOs into industrialized agriculture.
For the savvy in Peruvian society and politics, however, it evokes recent violent conflicts between the government and indigenous tribes (and specifically bloody massacre in Bagua in June 2009) over the rich in natural resources land of the selva. Neo-liberal policies, encouraging the use and industrial extraction of valuable goods, especially natural gas and water energy, by foreign corporations clash with the local way of life, dependent on the incredible nutritional and medicinal value of the immense variety of the plant species of the forest, where the bond with nature has multiple sacred dimensions. Villanes, who spent long periods of time in the jungle in the second half of the 1990s, is obviously concerned with the cultural and spiritual heritage of the local traditions and, not without a reason, extends his focus onto the issues that impact us all, regardless of the current place of residence: agriculture and food.

Related posts: