Chicago artist Jeanne Dunning investigates the human body to create color photographs that question issues of identity, sexuality, and the interior and exterior self. Drawing from a variety of sources, Dunning's images appear to be other than what they are: a piece of fruit resembles a human orifice; a woman's head appears to be shaped like a phallus; a human hand takes on a smooth yet lumpy intimacy. In another series, Dunning's body seems dwarfed by a huge, unidentified mass, leaving the viewer to project his or her own phobias and fetishes onto the images. Referred to as "representations that have been explicitly coded as representations," by The Los Angeles Times, Dunning's photographs at once fascinate and disturb, attract and repulse.
Jeanne Dunning's photographic, sculptural and video work explores our relationship to our own physicality, looking at the strange and unfamiliar in the body, gender and notions of normality.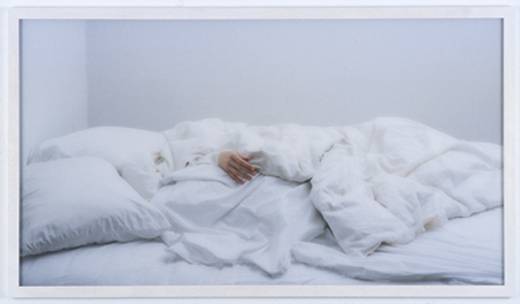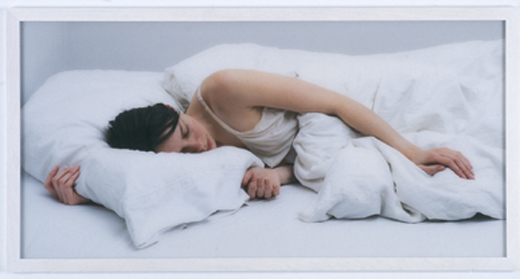 Bodies and food have been important subjects for Dunning since 1990, when she created the series Samples. The work involved photographing mundane fruits and vegetables at close range to resemble human organs–a skinned tomato that evokes a swollen tumor, for example. In 1996 she began to make her own edible concoctions: thick, flesh-colored puddings and homemade icings. In this exhibition, a tapioca-like substance appears in several photographs, oozing down angles of the body or forming a pool under the head of a sleeping woman. The nature of the liquid remains ambiguous, alluding to sweet and vulgar things. Thus the images themselves can cause both attraction or repulsion, depending on the instinctive reaction of the viewer.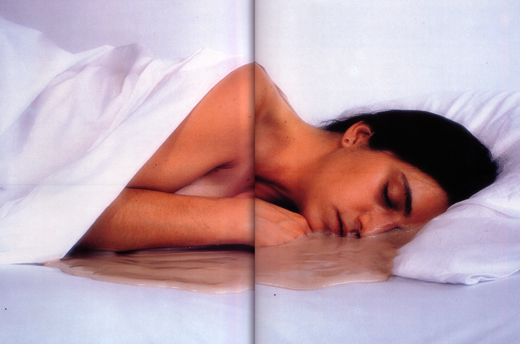 Dunning's work stimulates an irrepressible desire to look. In her photographs of women with mustaches and the insides of nostrils (dating from 1988), she encourages viewers to stare at what would normally be taboo. The same principle is at work in her recent photography. Each picture sets up a curiosity–something is often strange or unreconciled. This is especially true in her pictures of women. By emphasizing the crucial details or aberrations, Dunning refuses to let viewers passively indulge in female beauty.