Like his contemporaries, Christo rebelled against abstraction, seeing it as too theoretical and proposing in its place a manifestly physical art composed of real things. Christo began by wrapping everyday objects, including tin cans and bottles, stacks of magazines & furniture.
In 1961 he started collaborated with his wife, Jeanne-Claude, using industrial materials like polypropylene sheeting, canvas & ropes to wrap objects. The use of fabric sometimes involved wrapping an object, sometimes a bundle; these coverings partly obscured the object's contours and hampered its function, thus transforming it into an aesthetic presence.
In 1964, just after moving to New York, this repertory of forms was augmented by a series of life-sized store fronts, for example Store Front (1964) the view through their plate-glass windows blocked by hanging fabrics or by sheets of paper stretched across their fronts, again rendering their function uncertain.
Working on the principle that the alteration of one element in a context affected all of its parts, in 1961 the first Project for a Wrapped Public Building was conceived. With its normal interior function unimpeded, the obscured structure would become a disquieting presence in its urban setting.
Wrapped Reichstag
Christo and Jeanne-Claude | Wrapped Reichstag | 1995
The wrapping began on 17 June 1995 and was finished on 24 June.
Christo received a message from a Berlin art historian to wrap the Reichstag in response to the 1961 "Project for Wrapping a Public Building". On 10 August 1972 the second attempt to hang the cloth succeeded, but only 28 hours later it had to be taken down because of an approaching storm.
Wrapped Trees
Starting on Friday, November 13, 1998, 178 trees were wrapped with 592,015 square feet (55,000 square meters) of woven polyester fabric (used every winter in Japan to protect trees from frost and heavy snow) and 14.3 miles (23 kilometers) of rope. The wrapping was completed on November 22.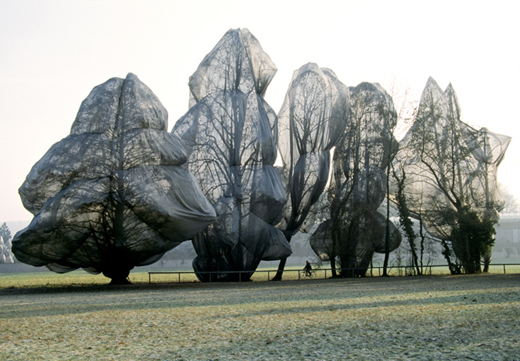 Wrapped Trees, 1997-98
Surrounded Islands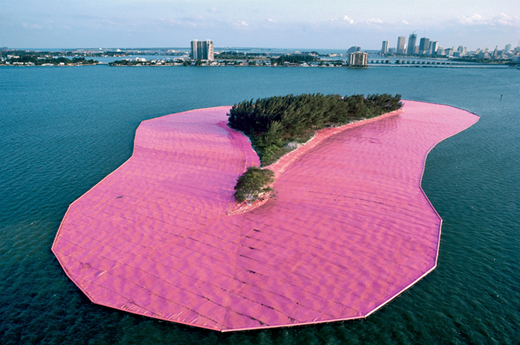 Surrounded Islands
Miami, Florida, 1980-83
On May 7, 1983 the installation of Surrounded Islands was completed. In Biscayne Bay
For 2 weeks Surrounded Islands spreading over 11.3 kilometers (7 miles) was seen, approached and enjoyed by the public, from the causeways, the land, the water and the air. The luminous pink color of the shiny fabric was in harmony with the tropical vegetation of the uninhabited verdant island, the light of the Miami sky and the colors of the shallow waters of Biscayne Bay.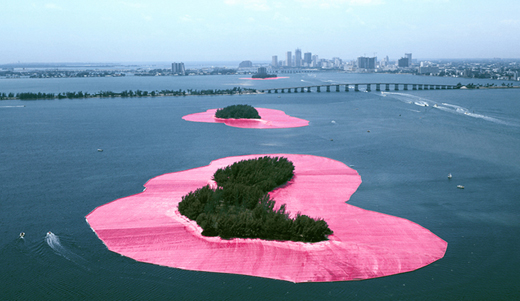 Surrounded Islands
Miami, Florida, 1980-83
From November 1982 until April 1983, 6,500,000 square feet of woven polypropylene fabric were sewn at the rented Hialeah factory, into 79 different patterns to follow the contours of the 11 islands. A flotation strip was sewn in each seam. At the Opa Locka Blimp Hangar, the sewn sections were accordion folded to ease the unfurling on the water.