Official Website: www.ps1.org
December 12, 2010 – April 4, 2011
In recent years, television's reality shows and talent competitions have offered people a conflicted chance at fame, while various kinds of Web-based social media have pioneered new forms of communication that people increasingly use to perform their private lives as public theater. During the same period, governments worldwide have asserted vast new powers of surveillance, placing unwitting "participants" on an entirely different kind of stage.
Against this backdrop, The Talent Show examines a range of relationships between artists, audiences, and participants that model the competing desires for notoriety and privacy marking our present moment. Ranging from seemingly benevolent partnerships to those that appear to exploit their subjects, many of the works in the exhibition animate the tensions between exhibitionism and voyeurism, and raise challenging ethical questions around issues of authorship, power, and control.

Selected Artists:
1. Andy Warhol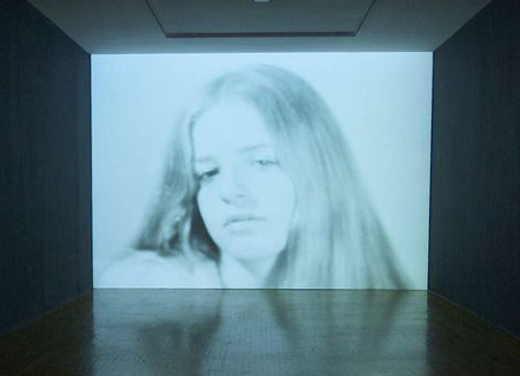 "Robin"
1965. 16mm film, black and white
"Screen Tests," this four-minute 16-millimeter film portraits of famous, semi-famous and unknown subjects. Projected wall-size here is the nearly static image of a young woman named Robin, who sat for her film portrait in 1965. She was not a celebrity, but there seems no reason to think she could not have been another superstar had she been more self-assertive.
2. Piero Manzoni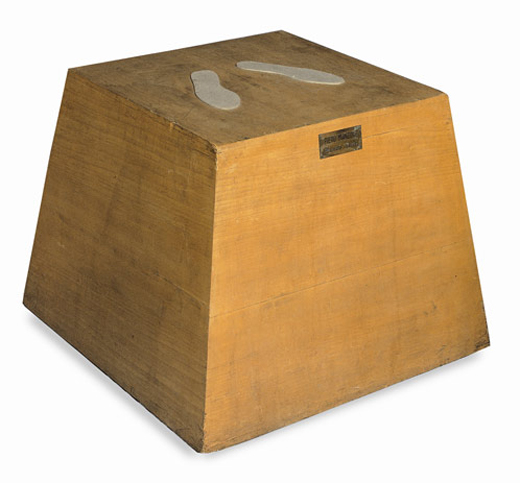 Base magica – Scultura vivente
1961. wood 60 x 79.5 x 79.5 cm
A pedestal called "Magic Base — Living Sculpture" (1961) by Piero Manzoni invites people to step up on it and exhibit themselves as works of live art.
3. Chris Burden
Wiretap
1972. Mixed media installation
Chris Burden's performances from the early '70s did much to shift attention from things artists make to the artist as a quasi celebrity. Here three of Mr. Burden's actions are memorialized in reliquarylike plexiglass boxes, with mementos resting on purple velvet cushions. One offers only a printed card stating: "I disappeared for three days without prior notice to anyone. On these three days my whereabouts were unknown." I want to say as I write this, "Well, no one knows where I am right now," but then I am not the object of a personality cult.
4. Adrian Piper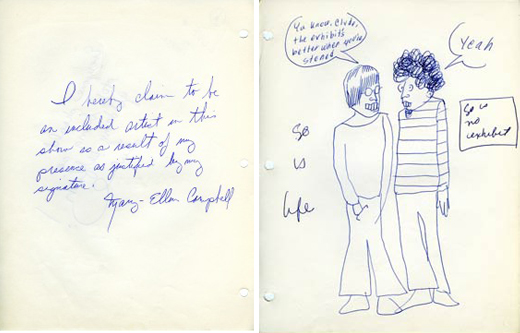 Context #7
1970. Mixed media installation
Adrian Piper's contribution to "Information," the influential exhibition of Conceptual art at the Museum of Modern Art in 1971, was a binder full of blank pages on which visitors were asked to write or draw whatever they liked. A selection of those sheets is displayed around the walls of one gallery. They included political commentaries, feeble japes like "You are all under arrest" and crude cartoons. The most incisive is a drawing of two people, one saying to the other, "You know Clyde, this exhibit's better when you're stoned."
5. Amie Siegel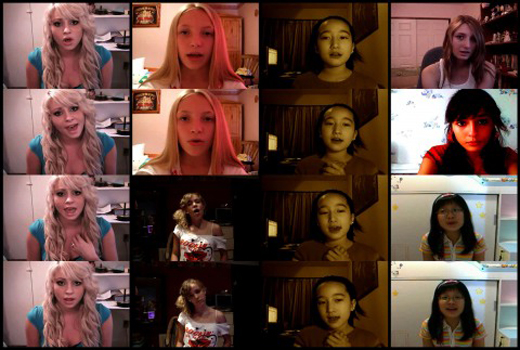 My Way 2
2009. Video (color, sound); 12 minutes
Compilation of  YouTube clips of girls and young women singing "Gotta Go My Own Way" from the movie "High School Musical 2," on the one hand, and men singing the Frank Sinatra chestnut "My Way" on the other.
6. Sophie Calle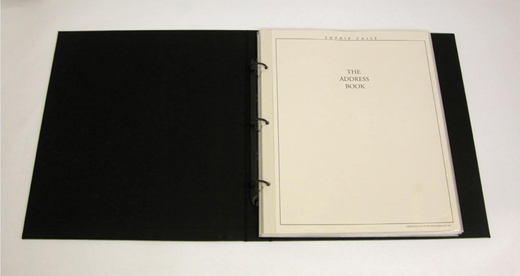 The Address Book
2009. A portfolio of prints: 28 pages, each with text and photographs
In 1983, Calle produced her most controversial work of art, Address Book. She had found an address book in the street, photocopied it and sent the original back to its owner. She then visited and interviewed the people listed, in order to build up a profile of its owner from their descriptions and anecdotes. The results were published in Liberation. At around the same time Calle herself became the willing subject of such investigations. In 1981 at Calle's request, her mother hired a private detective to follow her daughter, photograph her in secret and record her every movement. It was, in Calle's words, an attempt 'to provide photographic evidence of my own existence'.

Related posts: