The Metropolitan Museum of Art, NY
May 4–August 7, 2011
Official Website: www.blog.metmuseum.org
www.alexandermcqueen.com
The exhibition, organized by The Costume Institute, celebrates the late Alexander McQueen's extraordinary contributions to fashion. From his Central Saint Martins postgraduate collection of 1992 to his final runway presentation, which took place after his death in February 2010, Mr. McQueen challenged and expanded the understanding of fashion beyond utility to a conceptual expression of culture, politics, and identity. His iconic designs constitute the work of an artist whose medium of expression was fashion.
The Romantic Mind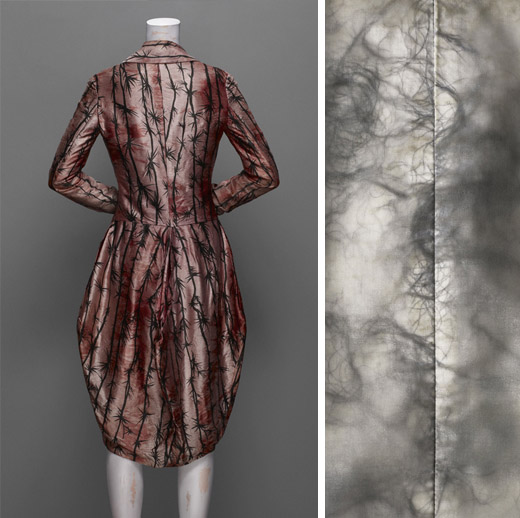 Coat
Jack the Ripper Stalks His Victims (MA Graduation Collection), 1992
Pink silk satin printed in thorn pattern lined in white silk with encapsulated human hair
"You've got to know the rules to break them. That's what I'm here for, to demolish the rules but to keep the tradition."
—Alexander McQueen
McQueen doggedly promoted freedom of thought and expression and championed the authority of the imagination. In so doing, he was an exemplar of the Romantic individual, the hero-artist who staunchly follows the dictates of his inspiration. "What I am trying to bring to fashion is a sort of originality," he said. McQueen expressed this originality most fundamentally through his methods of cutting and construction, which were both innovative and revolutionary.
Romantic Gothic and Cabinet of Curiosities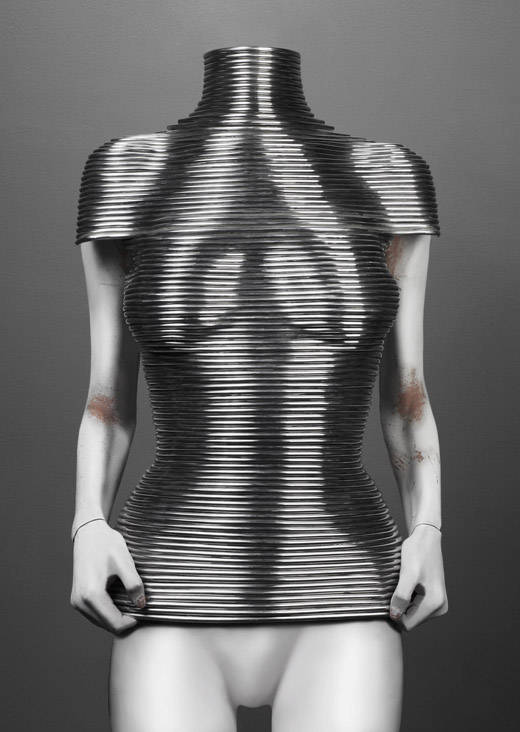 "Coiled" Corset
The Overlook, autumn/winter 1999–2000
Aluminum
One of the defining features of McQueen's collections is their historicism. While McQueen's historical references are far-reaching, he was particularly inspired by the nineteenth century, especially the Victorian Gothic.Like the Victorian Gothic, which combines elements of horror and romance, McQueen's collections often reflect opposites such as life and death, lightness and darkness. Indeed, the emotional intensity of his runway presentations was frequently the consequence of the interplay between dialectical oppositions. The relationship between victim and aggressor was especially apparent, particularly in his accessories. He once remarked, "I . . . like the accessory for its sadomasochistic aspect."
Romantic Nationalism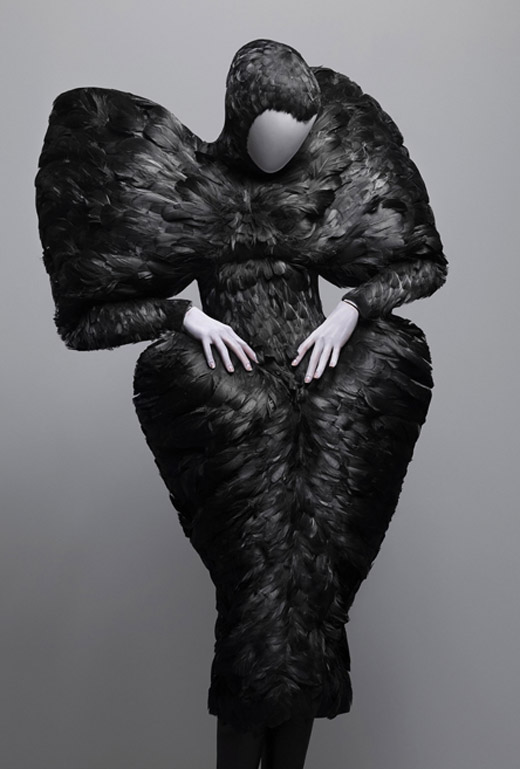 Dress
The Horn of Plenty, autumn/winter 2009–10
Black duck feathers
McQueen's collections were fashioned around elaborate narratives that are profoundly autobiographical, often reflecting his Scottish heritage. Indeed, when he was asked what his Scottish roots meant to him, he replied, "Everything." McQueen's national pride is most evident in the collections Highland Rape (autumn/winter 1995–96) and Widows of Culloden (autumn/winter 2006–7). Both explore Scotland's turbulent political history.
Romantic Exoticism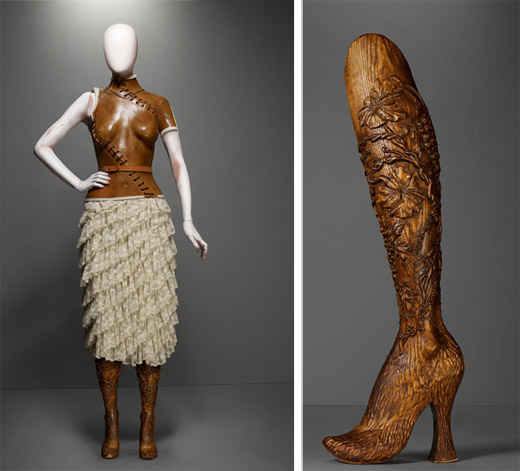 Ensemble
No. 13, spring/summer 1999
Corset of brown leather; skirt of cream silk lace; prosthetic legs of carved elm wood
"I want to be honest about the world that we live in, and sometimes my political persuasions come through in my work. Fashion can be really racist, looking at the clothes of other cultures as costumes. . . . That's mundane and it's old hat. Let's break down some barriers."
—Alexander McQueen
McQueen's romantic sensibilities expanded his imaginary horizons not only temporally but also geographically. As it had been for Romantic artists and writers, the lure of the exotic was central to his work. Like his historicism, McQueen's was wide ranging—India, China, Africa, and Turkey all sparked his imagination. Japan was particularly significant to him, both thematically and stylistically. The kimono, especially, was a garment that he reconfigured endlessly. Remarking on the direction of his fashions, McQueen said, "My work will be about taking elements of traditional embroidery, filigree, and craftsmanship from countries all over the world. I will explore their crafts, patterns, and materials and interpret them in my own way." As with many of his themes, however, McQueen's exoticism was often expressed in contrasting opposites. That was the case with It's Only a Game (spring/summer 2005), a show staged as a chess game inspired by a scene in the film Harry Potter and the Sorcerer's Stone (2001), which pitched the East (Japan) against the West (America). Films often inspired McQueen, as did contemporary art.
Romantic Primitivism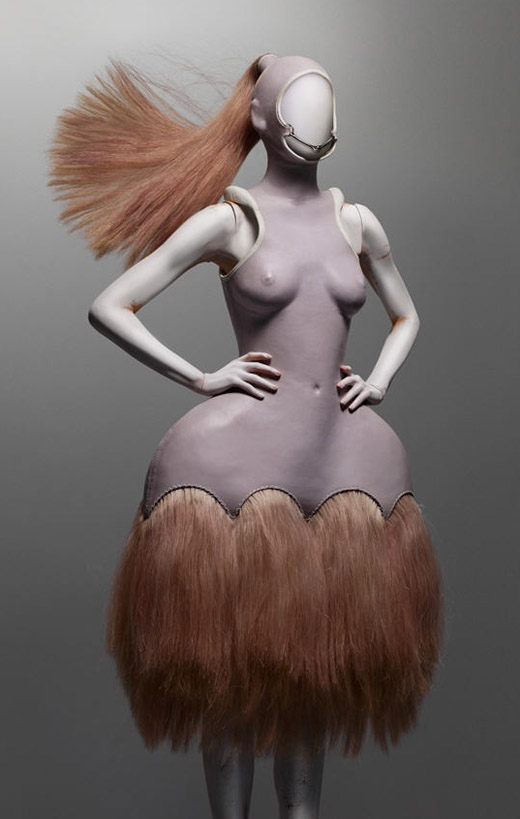 Dress
It's Only a Game, spring/summer 2005
Lilac leather and horsehair
"I try to push the silhouette. To change the silhouette is to change the thinking of how we look. What I do is look at ancient African tribes, and the way they dress. The rituals of how they dress. . . . There's a lot of tribalism in the collections."
—Alexander McQueen
Throughout his career, McQueen returned to the theme of primitivism, which drew upon the ideal of the noble savage living in harmony with the natural world. It was the focus of his first runway collection after graduating, Nihilism (spring/summer 1994). He said of the collection, "It was a reaction to designers romanticizing ethnic dressing, like a Masai-inspired dress made of materials the Masai could never afford." It famously included a latex dress with locusts, McQueen's statement on famine. Many of the pieces were coated with mud, a conceit the designer repeated in Eshu (autumn/winter 2000–2001), a collection inspired by the well-known deity in the Yoruba religion. The clothes, including a coat of black synthetic hair and a dress of black horsehair embroidered with yellow glass beads, came close to fetishizing materials. This fetishization also occurred in It's a Jungle Out There (autumn/winter 1997–98), which was inspired by the Thomson's gazelle. The collection was a meditation on the dynamics of power—in particular, the relationship between predator and prey. Indeed, McQueen's reflections on primitivism were frequently represented in paradoxical combinations, contrasting "modern" and "primitive," "civilized" and "uncivilized." The storyline of Irere (spring/summer 2003) involved a shipwreck at sea and was peopled with pirates, conquistadors, and Amazonian Indians. Typically, McQueen's narrative glorified the state of nature and tipped the moral balance in favor of the "natural man" or "nature's gentleman" unfettered by the artificial constructs of civilization.
Romantic Naturalism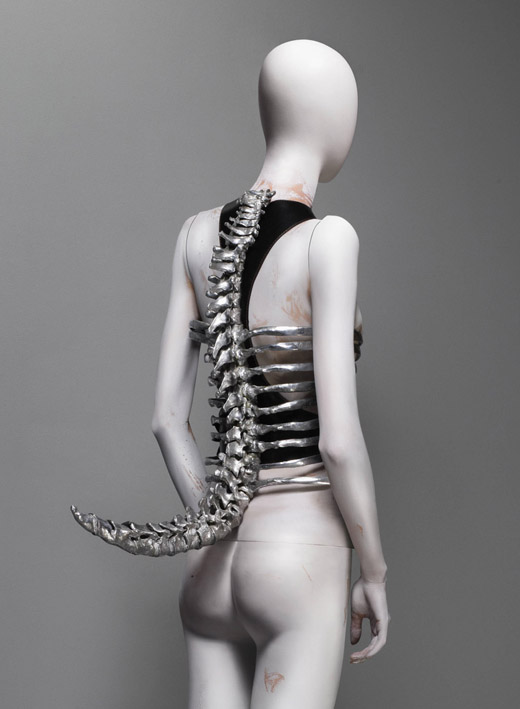 "Spine" Corset
Untitled, spring/summer 1998
Aluminum and black leather
Nature was the greatest, or at least the most enduring, influence upon McQueen. It was also a central theme, if not the central theme, of Romanticism. Many artists of the Romantic movement presented nature itself as a work of art. McQueen both shared and promoted this view in his collections, which often included fashions that took their forms and raw materials from the natural world. For McQueen, as it was for the Romantics, nature was also a locus for ideas and concepts. Inspired by Charles Darwin's On the Origin of Species (1859), it presented a narrative that centered not on the evolution of humankind but on its devolution. For the Romantics, nature was the primary vehicle for the Sublime—starry skies, stormy seas, turbulent waterfalls, vertiginous mountains. In Plato's Atlantis, the Sublime of nature was paralleled and supplanted by that of technology—the extreme space-time compressions produced by the Internet. It was a powerful evocation of the Sublime and its coincident expression of the Romantic and the postmodern. At the same time, it was a potent vision of the future of fashion that reflected McQueen's sweeping imagination.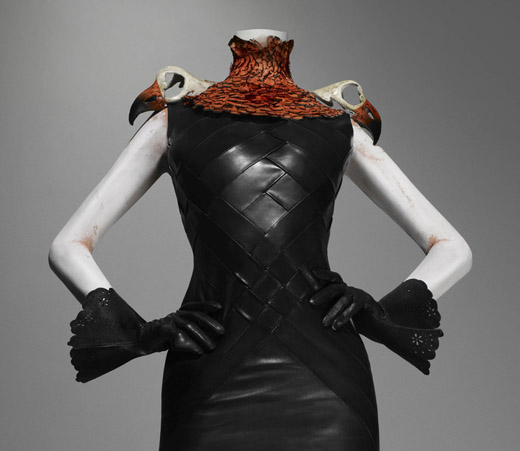 Ensemble
Eclect Dissect, autumn/winter 1997–98
Dress of black leather; collar of red pheasant feathers and resin vulture skulls; gloves of black leather
Related posts: