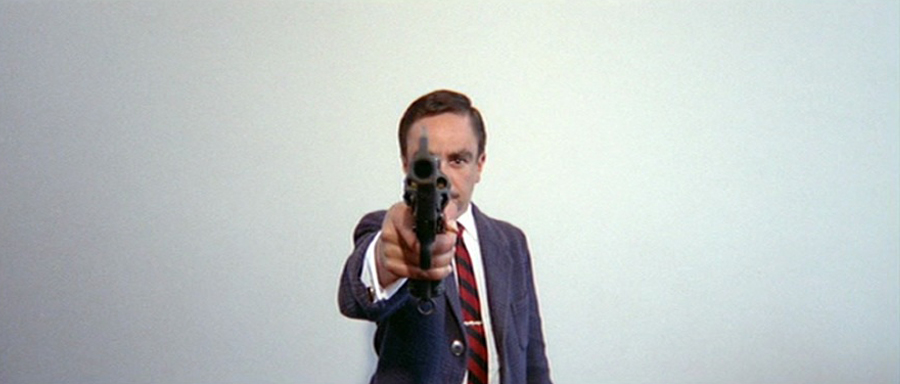 Pierrot Le Fou by Jean-Luc Godard
France | 1965 | 110 minutes
www.criterion.com
SYNOPSIS: Dissatisfied in marriage and life, Ferdinand (Jean-Paul Belmondo) takes to the road with the babysitter, his ex-lover Marianne Renoir (Anna Karina), and leaves the bourgeoisie behind. Yet this is no normal road trip: genius auteur Jean-Luc Godard's tenth feature in six years is a stylish mash-up of consumerist satire, politics, and comic-book aesthetics, as well as a violent, zigzag tale of, as Godard called them, "the last romantic couple." With blissful color imagery by cinematographer Raoul Coutard, Pierrot le fou is one of the high points of the French New Wave, and was Godard's last frolic before he moved ever further into radical cinema.
Jean-Luc Godard's Pierrot Le Fou Movie Stills
In February 1964, while shooting Band of Outsiders, Jean-Luc Godard announced his plans for a film based on a crime novel, Obsession, by the American writer Lionel White (translated into French as Le démon d'onze heures—literally, "The Eleven O'Clock Demon"). In an interview that month, Godard described it as "the story of a guy who leaves his family to follow a girl much younger than he is. She is in cahoots with slightly shady people, and it leads to a series of adventures."
For Godard, the long interval that separated the conception of Pierrot le fou from its realization had been a time of aesthetic as well as personal transition. As a result, when he was finally able to make the film, his original ideas about the project proved to be of little use to him. Recalling the shoot, Godard later said: "I remember that when I began Pierrot le fou, one week before, I was completely panicked, I didn't know what I should do. Based on the book, we had already established all the locations, we had hired the people . . . and I was wondering what we were going to do with it all."
In his earlier films, Godard had relied on preexisting frameworks to guide his spontaneous invention, whether Hollywood genres (as in Breathless, Band of Outsiders, and Alphaville) or the intellectual modernism of Brecht or Barthes (as in Vivre sa vie and A Married Woman). But by the time he started shooting Pierrot le fou, the film noir conventions underlying it no longer inspired him, and his theoretical references were in a state of flux due to his political anger as the Vietnam War escalated.
The result of Godard's personal, cinematic, and intellectual turmoil was an immediate creation that reached, even for Godard, new heights of spontaneity and lightning invention—and this was largely an effort to compensate for his inability to be methodical even by the casual terms of his own practiced methods. Shortly after completing the film, he told Cahiers du cinéma: "In my other films, when I had a problem, I asked myself what Hitchcock would have done in my place. While making Pierrot, I had the impression that he wouldn't have known how to answer, other than 'Work it out for yourself.'"
Pierrot le fou is filled with art and its attributes, from Marianne's last name (and some paintings to go with it) to works by Picasso on walls and as insert shots, Ferdinand's repeated references to Balzac, his lengthy recitation from a novel by Céline (whose first name, Louis-Ferdinand, Marianne likens to his), a reference to Beethoven, the film's Mondrian-like scheme of primary colors and white, Ferdinand's daubing of his face with Yves Klein blue—all suggesting that Godard rooted his film in a high artistic and literary tradition that transcended the conventions and habits of the cinema. Indeed, the many cartoonish references and devices suggest exactly what Godard thought of the standard-issue narrative that he used as an indifferent frame for his speculations and accusations.
The film is filled with contradictions: sublime, overwhelming images of nature and acrid gasoline haze (a big '62 Ford Galaxie convertible that Ferdinand drives into the sea, smoke from a burning car filling the sky above a verdant landscape); the Vietnam War, repeatedly mentioned, suggested, viewed as newsreel footage, followed by a clip of Jean Seberg in Godard's own 1963 Le grand escroc, which calls into doubt the veracity of documentary filming; Joyce and Beethoven and Balzac and Céline alongside comic books and music-hall comedy and Laurel and Hardy–ish pranks; a gangsterish genre that Godard no longer believed in and a new kind of form that he couldn't yet find; the self-searching of Ferdinand in the mirror, his allusion to Poe's "William Wilson," about a man and his double. Pierrot le fou was the work of a divided person whose film fell into the abyss of his own character.
If Godard was at war with himself, he was in perfect sync with a time that was also at war with itself; and as his personal crises mirrored those of the age, the age looked upon him as its reflection. It was a bind from which only drastic measures would free him. The romantically transcendent self-immolation with which Pierrot le fou would end foreshadows an age of political violence and self-abnegating ideological rigors that would come to take the place of a lost faith, not least in himself.
Art & Literature References:
Histoire de l'art by Elie Faure
Baudelaire – Flowers of Evil
Balzac by Louis-Ferdinand Céline
Velazquez
Picasso
Renoir
Yves Klein
Quotes and Highlights:
No, I'm wearing my new "scandale" griddle. It's invisible. Now we're entering the civilization of the ass.
Something wrong? You look depressed. Some days are like that. Everyone you meet is an imbecile. So you start looking into the mirror and wondering about yourself.
What exactly cinema is? A battleground: love , hate, action, violence. In one word emotions.
We are made of dreams and dreams are made of us.
Art / Mort
He commits suicide by wrapping dynamite around his head.
Related posts: