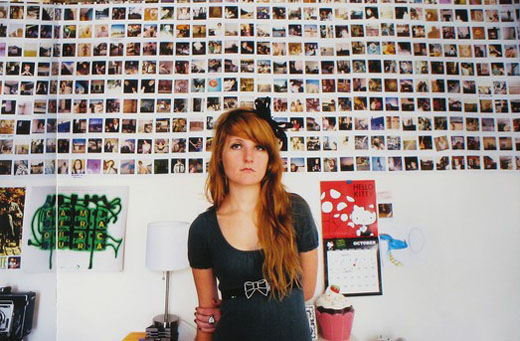 A Girl and Her Room by Rania Matar
Southeast Museum of Photography
September 14 – December 14, 2012
Artist's Talk, Book Signing and Opening Reception: Friday, September 14, 6:00-8:00pm
Rania Matar has produced an exhibition and a book of unique and subtle power. Focusing on contemporary young women from vastly differing cultures in the United States and Lebanon, her project, A Girl and Her Room, reveals the complex lives of her subjects in the unique setting of the girls' own rooms. Besides the expected cultural and economic differences and similarities that inevitably are drawn out using such an approach, these portraits of the girls and their bedrooms—reveal a dizzying array of personalities, dreams, hopes, wishes and frustrations in settings that are clearly expressions of the girls' individual identities. The nuances shown in each room, and in the portrait of each young woman, reveal an acute photographer's eye for telling detail.
Rania Matar started out this series quite modestly documenting the transition from childhood into adulthood of her own daughters and their friends through the turbulent teenage years. That most elusive of quarries: catching the metamorphosis of free spirited, complex, layered and multi-faceted personalities "mid-flight" each on their own unique journey to self and adulthood became Matar's quest.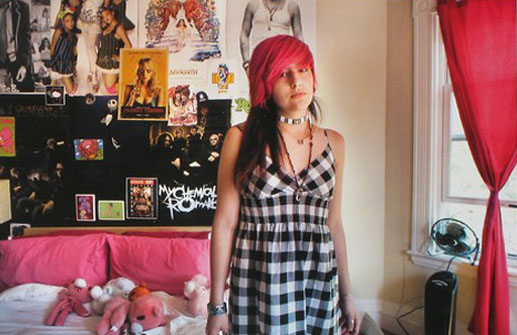 The girls in these photographs willingly opened their doors to an outsider, trusted her, shared their intimacy with her and exposed themselves and their vulnerability. Rania attempted to get to the soul of each girl, to represent each one as truthfully as she could, and, by capturing each individual, to justify their trust in her.
– Susan Minot
"Rania Matar's series, A Girl and Her Room, is a powerful statement about the persistence of Western ideals of beauty and the proliferation of media images and commercial products directed at young women and their insecurities – "Am I beautiful?" "Am I loved?" "Who are my friends?" "Who are my role models?" Matar's complex social portrait of female adolescence, an unusually intimate collaboration between photographer (herself a mother of teenage girls) and subject, is also a revealing documentary of place – the teenager's bedroom as a sanctuary of self-creation and experimentation."–Susan L. Stoops, Curator of Contemporary Art, Worcester Art Museum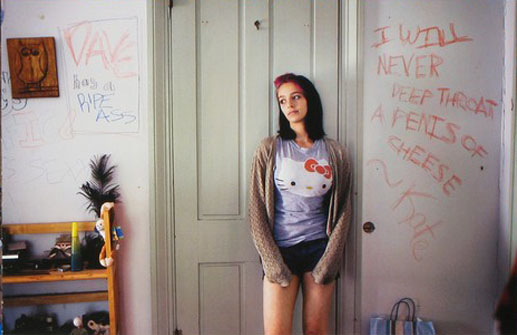 The room will be the first cocoon a girl creates for herself, of herself. It is the place she first attempts self-expression onto an environment. The development of a room shows the progress: pink gives way to glitter, stuffed animals to figurines. Pictures of animals are replaced by pictures of people and with objects no longer selected by a parent. Then to these she adds her own creations and soon the walls are taken over, and the closets, and the bed.

—Susan Minot, from A Girl and Her Room.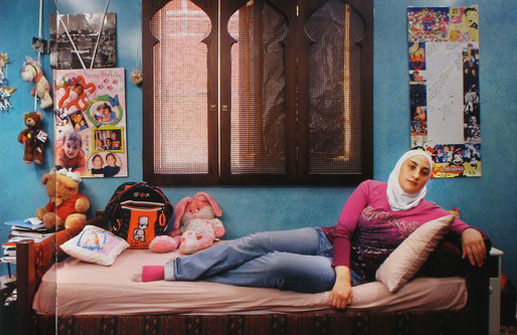 Artist Statement
As a mother of teenage daughters I watch their passage from girlhood into adulthood, fascinated with the transformation taking place, the adult personality shaping up and a self-consciousness now replacing the carefree world they had known and lived in so far. I started photographing them and their girlfriends, and quickly realized that they were very aware of each other's presence, and that their being in a group affected very much whom they were portraying to the world. From there, emerged the idea of photographing each girl by herself. I originally asked the girls to choose where they wanted to be photographed. After a number of them chose their bedrooms, I realized that was the nexus of a project. The room was a metaphor, an extension of the girl, but also the girl seemed to be part of the room, to fit in, just like everything else in the room.
Posters of rock stars, political leaders or top models were displayed above a bed covered with stuffed animals; mirrors were an important part of the room, a reflection of the girls' image to the world; personal objects, photos, clothes everywhere, chaotic jumbles of pink and black make-up and just stuff, seemed to give a sense of security and warmth to the room like a womb within the outside world.
I initially started this work focusing on teenage girls in the United States and eventually expanded the project to include girls from the two worlds I am most familiar with, the two worlds I experienced myself as a teen and a young twenty year old: the United States and the Middle East. This is how this project became very personal to me. I became fascinated with the similar issues girls at that age face, regardless of culture, religion and background, as they learn to deal with all the pressures that arise as they become consciously aware of the surrounding world wherever this may be.
Being with those young women in the privacy of their world gave me a unique peek into their private lives and their real selves. They sense that I am not judging them and become an active part of the project. The beauty and strength, the aspirations and dreams of these young women from different backgrounds, different worlds are deeply moving. I have tried to be the invisible mirror of those qualities here. Their frankness and generosity in sharing them was a privilege that they have extended to the viewers of this book and exhibition. My deepest hope for this project is that we help them achieve the fullness of their promise.
Related posts: