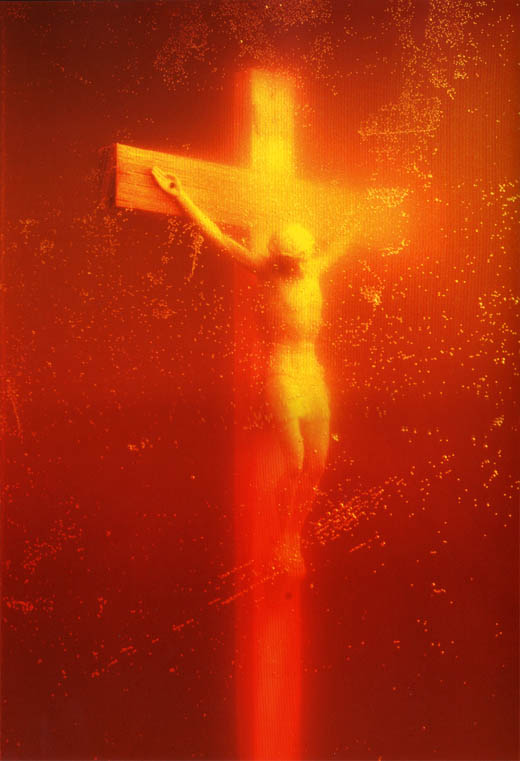 Body and Spirit: Andres Serrano
Body and Spirit: Andres Serrano 1987-2012
September 27-October 26, 2012
www.edwardtylernahemfineart.com
From September 27 through October 26, this show will feature a selection of works surveying 25 years of Serrano's career, including a range of images from the various series that have solidified Serrano's standing in the contemporary art landscape.
This exhibition will include Serrano's work, Piss Christ, 1987 (Cibachrome, 60 x 40 in.), on loan from an important private collection. This work was last seen publicly in New York in the exhibition "Down by Law," that formed part of the 2006 Whitney Biennial. Piss Christ is a potent work that engages the viewer on both a visual and intellectual level. Unassumingly and with no intention, it has also served as an unwitting lightning rod in media and politics, challenging the values, perception, and definition of art. Piss Christ, ultimately, has turned into a controversial symbol of the freedom of expression and the ability of art to catalyze significant change in society.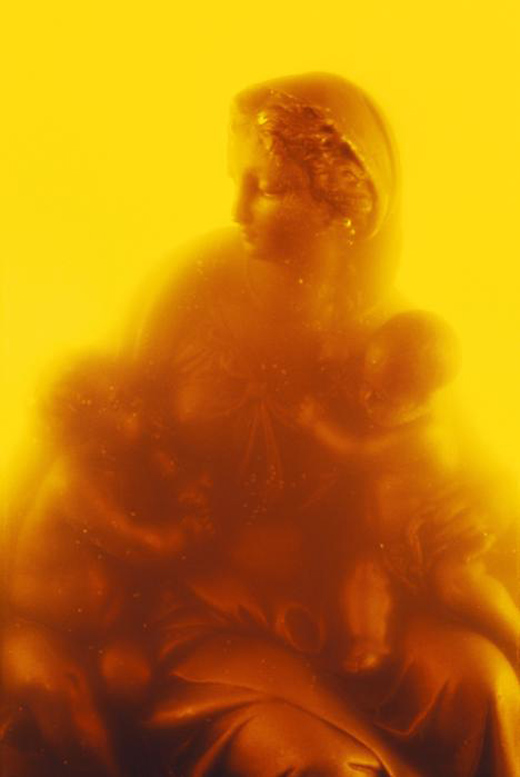 Madonna of the Rocks, 1987
Cibachrome print, silicone, acrylic, wood frame
Walter Robinson writes of the artist and this show:
Andres Serrano is a believer. An artistic revolutionary for 30 years, he nevertheless remains on what might be called a spiritual quest. The search is for emblems of paradise in a debased world, beauty and life in the abject body. It is a battle of good and evil, "the union of outrageous realism and outrageous idealism," as Havelock Ellis put it in his introduction to A Rebours (1884), J.K. Huysmans' Symbolist classic.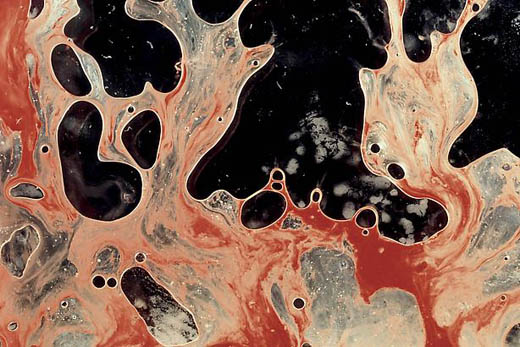 Semen and Blood III, 1990
Cibachrome print, silicone, acrylic, wood frame
Serrano's endeavor has brought him more than his fair share of controversy, which can be measured by the discontent that greeted many of his photographic series, including "Immersions" — notably, the now-iconic Piss Christ from 1987 — as well as "Body Fluids," "The Morgue" and, most recently, "Shit." Within these series, we find images that are both commonplace and astonishing: a Lord of Light, the radiant Jesus who comes to awaken mankind (White Baby Jesus, from "Immersions"), the ancient serpent cast out of heaven as in Revelations (Dragon Wars, in "Anarchy"), a befouled sewer angel of infinite grace (Jane Doe Killed by Police, in The Morgue"), an uncertain elixir of life or sacrament (Semen and Blood III, from "Body Fluids").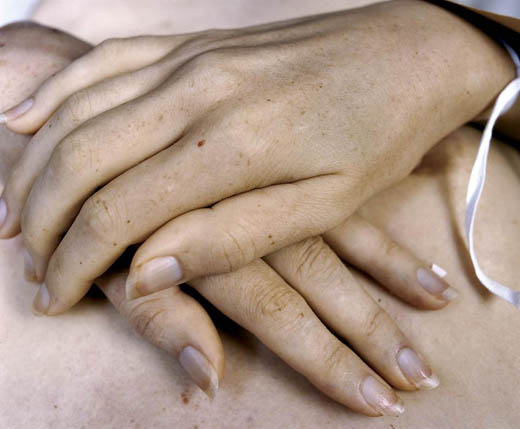 The Morgue (AIDS Related Death), 1992
Cibachrome print, silicone, acrylic, wood frame
There too is the human multitude, all sin and redemption, in series like "The Church," "America," "The Interpretation of Dreams" and "History of Sex." In Serrano's photographs we find the transcendent passions of the soul and the earthly consequences of the flesh.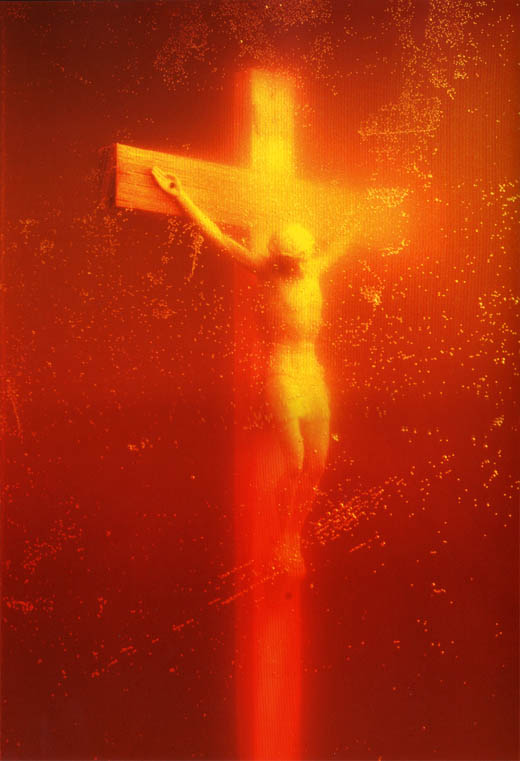 Piss Christ, 1987.
In addition to Piss Christ, this exhibition will also include a number of rare works such as Madonna of the Rocks, 1987, and Piss Discus, 1988, from "Immersions", 1987-1990, AIDS Related Death from "The Morgue," Semen and Blood III, 1990, from "Bodily Fluids", and Johnny, 1990, from "Nomads". Also featured will be Wunmi Fadipe, Sales Assistant, 2002, one of many works from Serrano's celebrated "America" series, as well as newer works from the powerful group, "Anarchy", which debuted at The Armory Show, NY, in March 2012.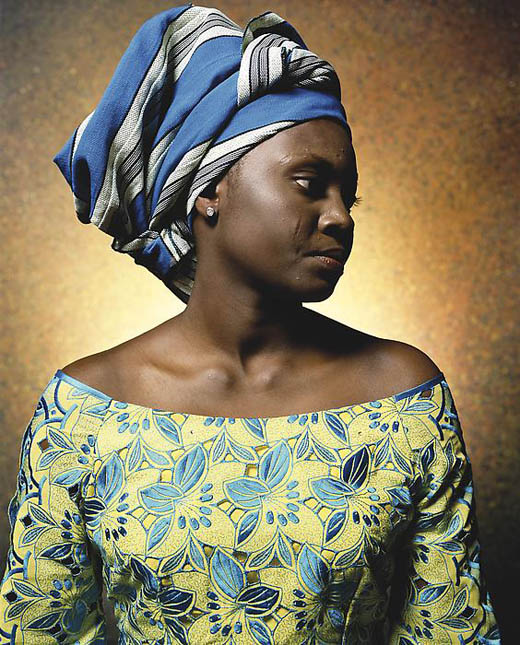 America (Wunmi Fadipe, Sales Assistant at Investment Bank), 2002
Cibachrome print, silicone, acrylic, wood frame
Throughout his career, Serrano has created a distinct visual language that poses questions about mortality, religion, sex, and society, among other subjects that appear at the forefront of contemporary discourse. While Serrano's photographic technique has remained straight forward and without digital manipulation throughout his career, formally his works over time exhibit considerable variation.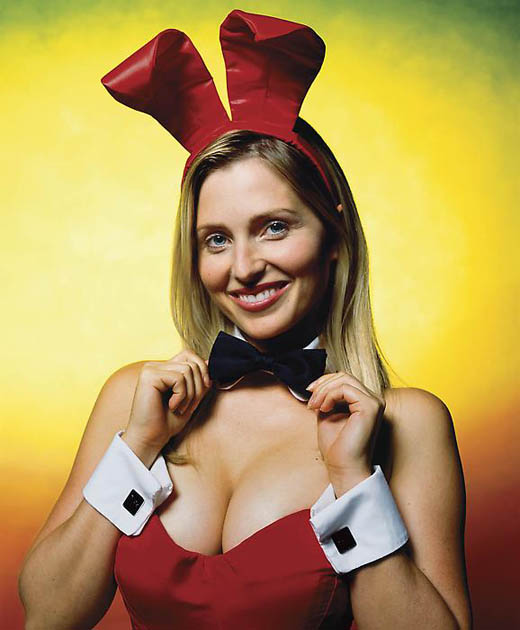 America (Playboy Bunny Deanna Brooks), 2002
Cibachrome print, silicone, acrylic, wood frame
The abstract beauty and highly cathected photographs in "Immersions" and "Bodily Fluids", frequently created with material sourced from the artist's own body, differ greatly from the studio portraits of homeless people in "Nomads", which the artist relates to the photographic depiction of Native Americans by Edward S. Curtis. These in turn differ from Serrano's approach to his subjects in "America", for which he chose a variety of sitters who are frequently described by their name and profession, which in itself becomes a marker for identity – be it a firefighter, a bull rider, or a Playboy bunny. Of particular significance during an election year, especially one marked by the return of the "culture wars", is Serrano's distinct interest in the diversity of American society and his exploration of the multicultural heritage of the United States. Here, Serrano's "outrageous idealism" find its heroes among American archetypes and celebrates their humanity – body and spirit combined.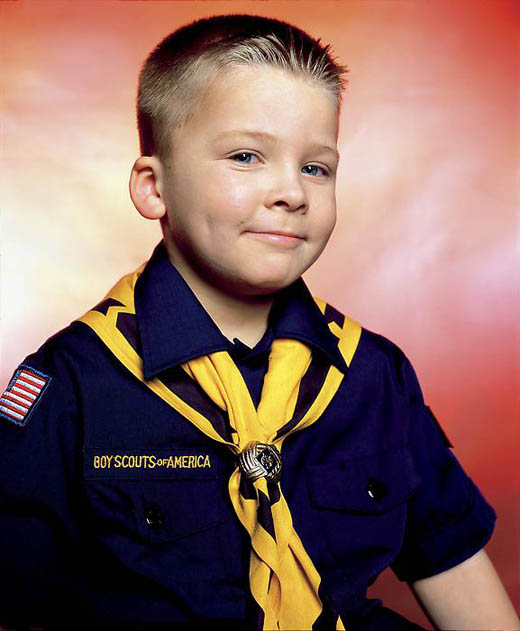 America (Boy Scout John Schneider, Troop 422), 2002
Cibachrome print, silicone, acrylic, wood frame
Renowned for a passionate body of work that challenges artistic and societal boundaries, Andres Serrano (b. 1950, US), has exhibited extensively in solo and group exhibitions since the 1980s. Serrano's works are held in the permanent collections of numerous public institutions both in the United States and internationally, including the Art Institute of Chicago; Institute of Contemporary Art, Boston; Israel Museum, Jerusalem; Museo Nacional Centro de Arte Reina Sofía, Madrid; Museum of Contemporary Art, Los Angeles, and The Whitney Museum of American Art, New York, among many others.