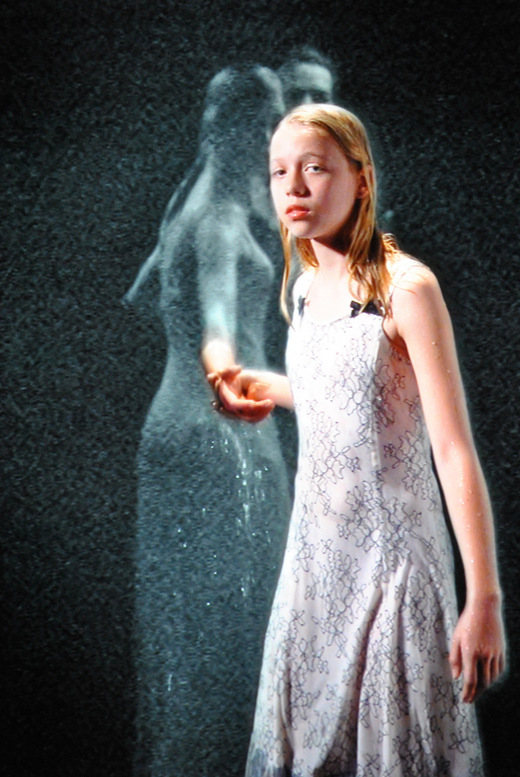 Bill Viola: Liber Insularum – Retrospective at MOCA
DECEMBER 5, 2012 – MARCH 3, 2013
http://mocanomi.org
The Museum of Contemporary Art (MOCA) North Miami has announced it will present a major exhibition of work by Bill Viola, recognized as one of the pioneers and leading practitioners of video art.
An iconic contemporary artist who draws from Eastern and Western spiritual traditions, Bill Viola is known for creating immersive video installations that explore such universally human subjects as birth, death, and the nature of consciousness. His exhibition at MOCA North Miami is inspired by The Book of the Islands of the Archipelago, authored by the Florentine ecclesiastic Cristoforo Buondelmonti in the 15th century. The works featured in Liber Insularum (The Book of Islands) use this historic text as a reference point to engage with distinctly modern themes of spiritual isolation in a 21st-century global landscape. Many of the works in the exhibition were produced after Viola's last retrospective in 1997 at the Whitney Museum of American Art.
WORKS INCLUDED IN THE EXHIBITION:
Three Women, 2008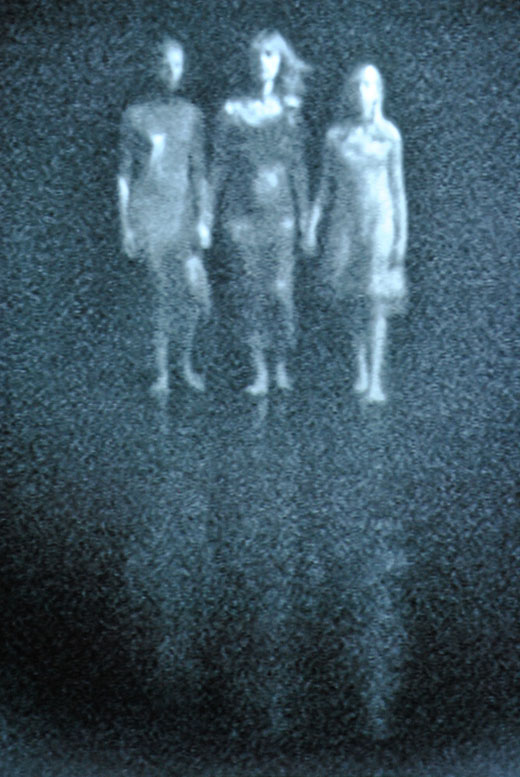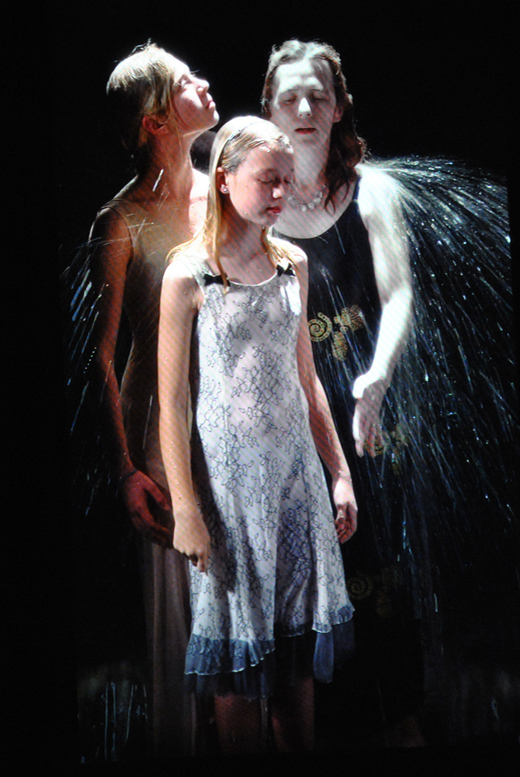 Color High-Definition video on plasma display mounted on wall
Three ghostly female figures of various ages approach the camera in slow motion, passing through a wall of water that transforms their appearance from evanescence to corporeality.
Transfiguration, 2007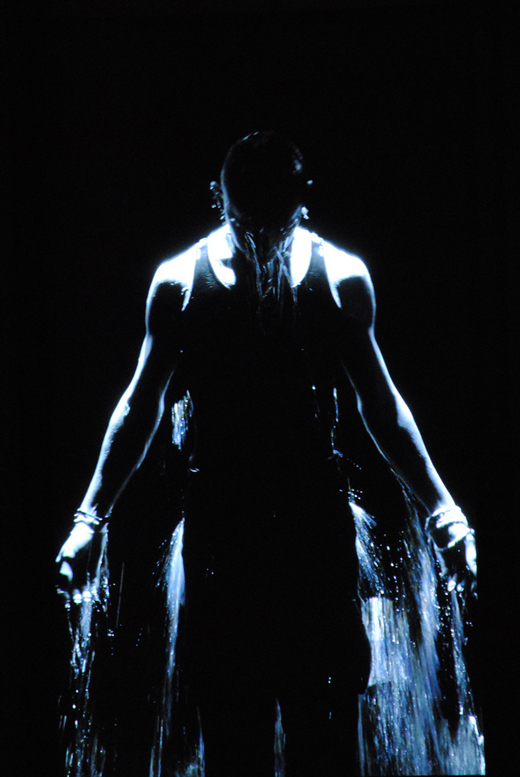 Black-and-white High-Definition video on plasma display mounted on wall
A human body passing through a physical apparatus of water and light evokes transcultural images of spiritual transformation.
The Raft, 2004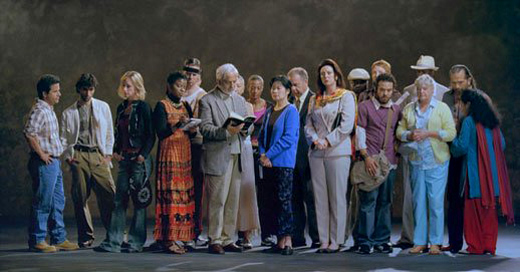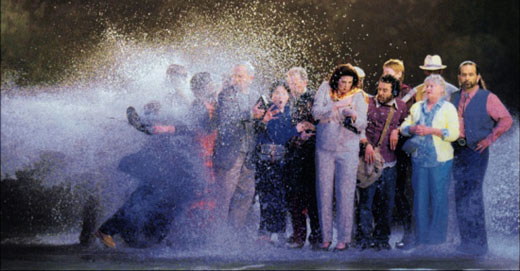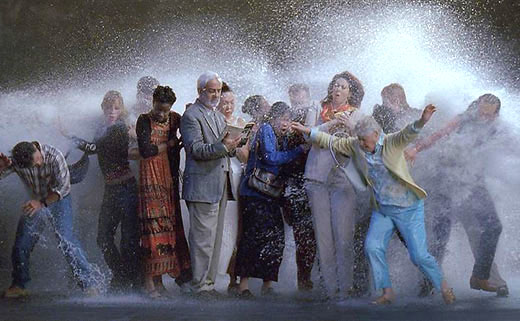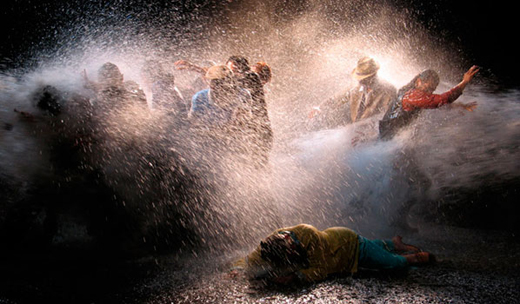 Large video projection on wall in 16:29 High-Definition with 5.1 surround sound
Extreme slow motion reveals the subtle nuances of light and color in a group of 19 individuals as they are struck by an onslaught of water from a high-pressure hose.
Observance, 2002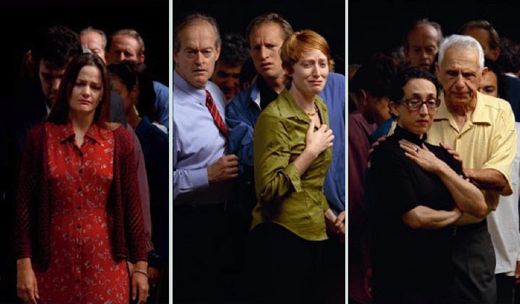 Color High-Definition video on plasma display mounted on wall
A steady stream of people move through the frame, their faces overcome with emotion as their gaze fixes on an object in the distance.
Catherine's Room, 2001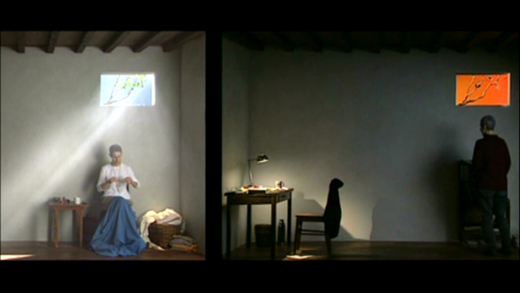 Color video polyptych on five LCD flat panels mounted on wall
A solitary woman repeats a series of rituals throughout a single day, as depicted across five flat panel screens arranged in a horizontal row.
Four Hands, 2001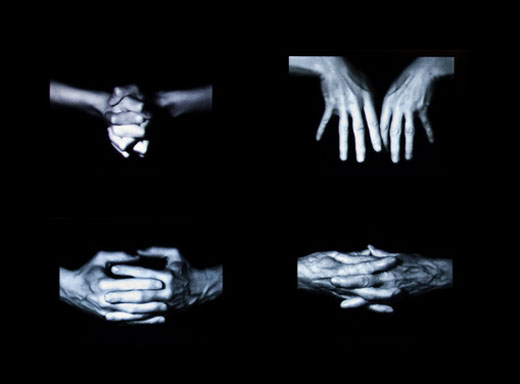 Black-and-white video polyptych on four LCD flat panels mounted on shelf
Four pairs of hands across four small screens make gestures referencing various spiritual traditions, from Buddhist mudras to 17th century English Chirogrammatical tables.
Surrender, 2001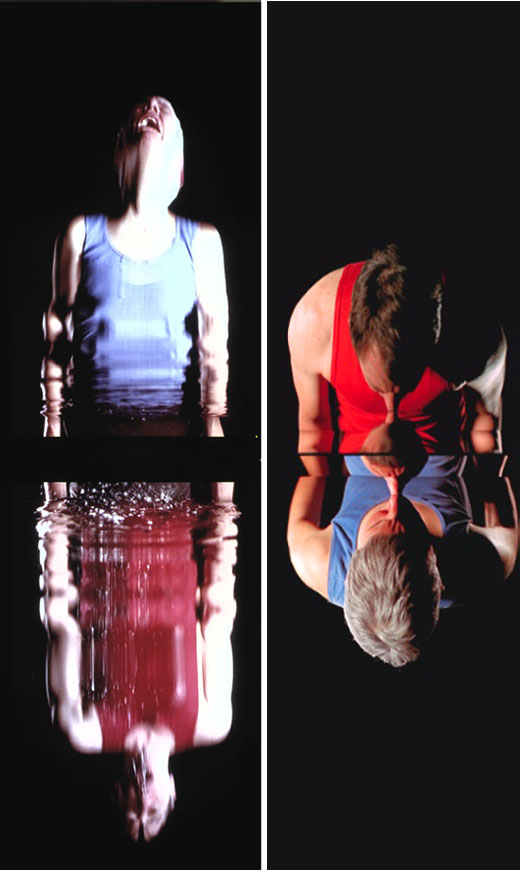 Color video diptych on two plasma displays mounted vertically on wall
Male and female images appear separately on two screen panels, performing synchronized prostrations of increasing emotional intensity and duration.
Unspoken (Silver & Gold), 2001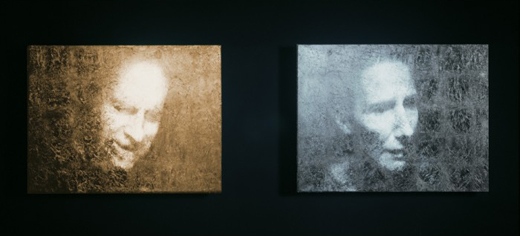 Black-and-white video projected diptych on one gold and one silver-leaf panel mounted on wall
Two human figures expressing existential anguish are projected onto adjacent panels of silver and gold leaf, respectively.
The Quintet of the Astonished, 2000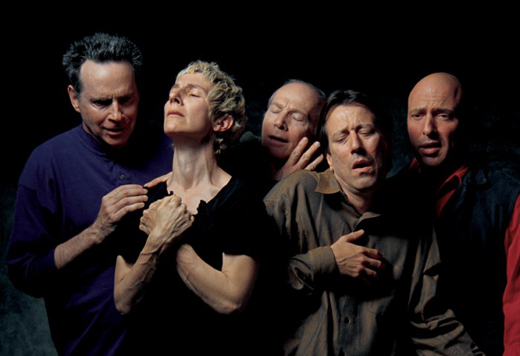 Color video rear projection on screen mounted on wall in dark room
A group of people undergoes intense waves of emotion, the subtleties of their expressions captured and enhanced by slow-motion photography to create a subjective dreamlike space.
I began looking at expressing my ideas in a more intimate format. What made this possible were the new developments in video screen technologies in the late 1990s. Flat screens were approaching photographic quality in terms of resolution and detail, and the color palette was achieving greater clarity and depth.
The Reflecting Pool, 1977-79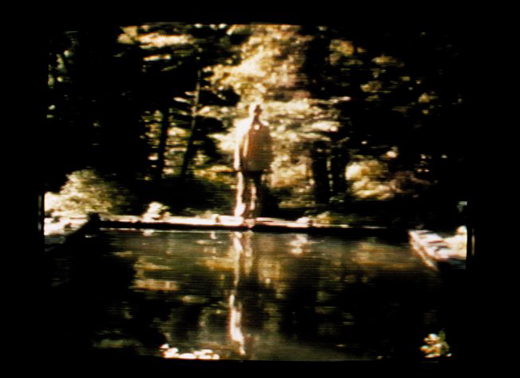 Color, mono sound
Time freezes as a man leaps into a pool of water, with a world of movement and change emerging in the reflections beneath him.
Related posts: