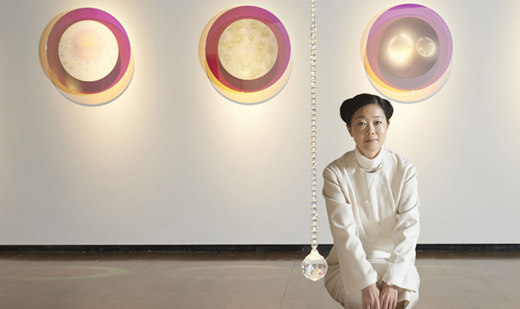 Mariko Mori: Rebirth
royalacademy.org.uk
13 December 2012—17 February 2013
Mariko Mori's Rebirth includes some of her most acclaimed works from the last 11 years, alongside new works created especially for this exhibition. Starting and ending with the death and birth of a star, the cycle of life and rebirth is an important theme of the show, which includes photography, works on paper, sound works, as well as sculpture and large scale immersive installations and environments that invite contemplation.
The exhibition has been developed in close collaboration with the artist, and is timed to coincide with the winter solstice in 2012. According to ancient calendars, this year's solstice will either mark the end of the world or the birth of a new era.
Since her first exhibitions in the mid-1990s, Mori's practice has been rooted in both traditional and contemporary Japanese culture, and between East and West. Her works juxtapose contrasting aesthetic languages that have ranged from traditional tea ceremonies to Manga and cyber culture, fusing Shintoism and Buddhism with the hard planes of science and technology. Mori's recent practice has evolved around a fascination with ancient cultures, among them prehistoric Jomon (c.14,000 – 300 BC) in Japan and Celtic traditions in Europe. Founded on a belief in cycles of death and rebirth, these were marked by a holistic world view that placed mankind in a more harmonious relationship with our surroundings. These interests are expressed through emerging technologies and digital media, which the artist embraces as tools to be harnessed in order to reconnect with our environment.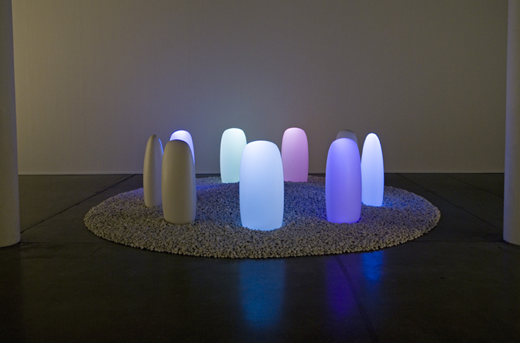 Mariko Mori, 'Transcircle 1.1' (Indoor), 2004.
Stone, corian, LED, real time control system; Overall dimensions: 336 cm Diameter: 110 x 56 x 34 cm (each stone)
With its combination of an ancient form and cutting-edge technology, this first piece sums up most of the sources behind the show. Japanese-born Mori freely draws on Buddhist, Shintoist, and Celtic traditions that she reinterprets in a retro-futuristic lexicon, all muted hues and curved shapes.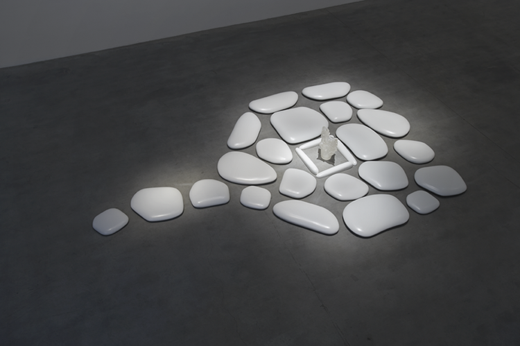 Mariko Mori, 'Flat Stone', 2006.
Ceramic stones and acrylic vase, Stones: 487.5 x 314.6 x 8.8 cm, Vase 38.1 x 27.9 x 43.2 cm.
Human ritual meets scientific investigation into natural phenomena: Her floor piece "Flat Stone" (2006) echoes pebble shrines from the mid-Jomon Era (3500-2500 B.C.), aligned with the winter solstice's light. A replica of a Jomon mask hangs on the wall above it, almost hovering like a deity over its realm.
I'm not religious, but Buddhism and Shintoism are part of my cultural background, and Buddhists believe in transfiguration — reaching a deeper level of consciousness, transcending the self.
In one work, a crystal pendulum is suspended over a circle of 108 crystal balls — one for each of the 108 earthly desires. Immobile, the pendulum could point any direction, potentially encompassing the whole of the human experience.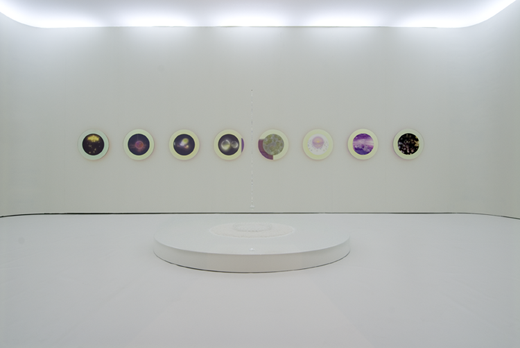 Mariko Mori, 'Miracle', 2001.
Cibachrome print, frame in diachronic glass, glass balls, crystal ball, chain, salt, 69 cm each element (set of 8 elements), Salt circle: 84.58 cm diameter.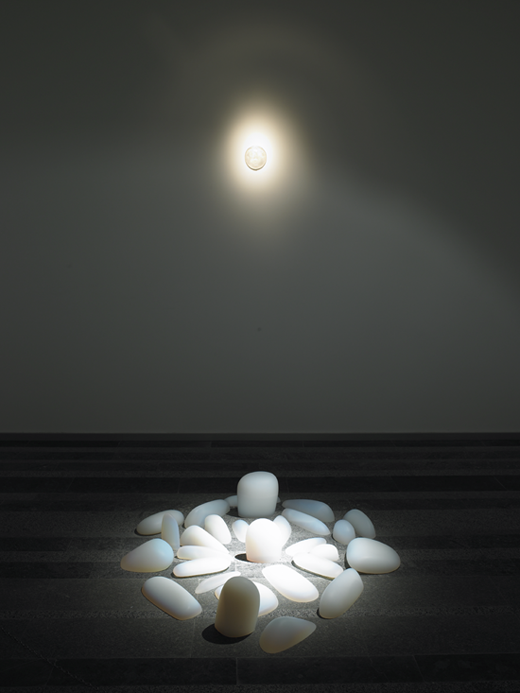 Mariko Mori, 'Primal Memory', 2004.
Lucite, 25 x 126.8 x 129.6 cm.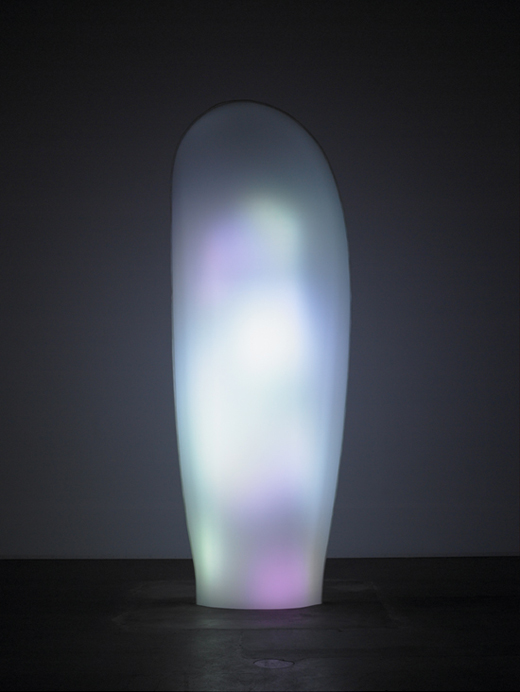 Mariko Mori, 'Tom Na H-Iu II', 2006.
Glass, stainless steel, LED, real time control system, 450 x 156.3 x 74.23 cm.